TalkTalk now has over a million YouView television homes and claims to be the fastest growing television business in the United Kingdom. TalkTalk is essentially buying its way into the television business by offering its broadband customers free boxes. It is not a unique strategy. The question is whether it will pay off for a telecommunications company with little apparent affinity for television.

TalkTalk is positioned as a value brand and its strategy is to offer television through a YouView box as part of a low-cost bundle of services.
TalkTalk Group added 185,000 television homes in the first quarter of 2014, which is more than all other television services in the United Kingdom combined. At the end of March it had 917,000 homes and the figure stood at over a million when TalkTalk presented its annual results in mid-May.
The company said a third of its TV customer additions were new to TalkTalk, which would be around 62,000. Yet TalkTalk added only 25,000 net broadband customers in the quarter, taking its total to 4.196 million. In fact, its broadband base has only grown by 130,000 homes in two years, which is less than BT added in the last quarter, having gained a million in two years.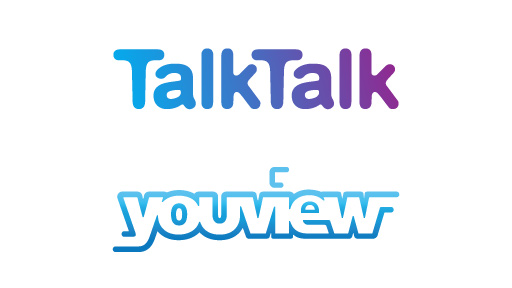 "We have built a TV business with over one million customers in just 18 months — a quarter of our total customer base," said Dido Harding, the chief executive of TalkTalk. "We continue to grow faster than all the other UK TV operators put together and are confident that in time, all our customers will take TV."
Dido Harding talks a good talk, enthusiastically embracing financial figures and generally assuring analysts that she is 'very comfortable' with the business metrics, but the company generally shows little enthusiasm for television as a medium.
While TalkTalk claims to have built a television business, its annual results announcement and analyst presentation made little reference to television programming.
Only 30% of TalkTalk television customers come from pay television, with the rest more familiar with Freeview free-to-air terrestrial television. The company points to "the volume of high quality free public service broadcast programming" and says "Viewing data across all platforms shows that the vast majority of TV viewing (even for pay-TV subscribers) is of live and catch-up free-to-air content."
Around 200,000 of its million television 'customers' chose to purchase programming in the quarter. 20% of those on the premium 'Plus' package that comes with seven Sky channels pay for additional programming or 'Boosts,' while just 10% of those on the 'Essentials' package do so, spending an average of £11 a month.
Average revenue per on-net customer was £26.93, compared to £24.47 two years previously, before TalkTalk launched its television service. That is an uplift of around £29.50 a year, which works out at less than £30 million a year across the television base.
Pay-per-view movies are apparently generating less than £80,000 in revenue per month, at an average spend of £4, which appears to be 20,000 customers, or 2% of the television base.
TalkTalk said "we remain encouraged by the overall level of pay content take-up and its implications for incremental revenue growth in the future".
Total annual revenue for stood at £1.73 billion, up 3.4% on the previous year. However it was £1.77 billion for 2011, so it has actually decreased since the launch of YouView.
The 687,000 television 'customers' that TalkTalk gained in a year did not come cheaply. TalkTalk spent £318 million on subscriber acquisition and marketing, and a further £234 million the previous year. That works out at half a billion pounds, or over £550 per television home gained, or £130 per head for each existing customer for a net addition of just 130,000 subscribers.
TalkTalk expects a similar number of net television additions in the next year, which would give it a total base of around 1.7 million. It remains to be seen whether it will maintain the rate of growth, which has increased quarter by quarter since it launched its YouView box in September 2012.
The focus will be on reducing customer churn, currently at 1.5% a month, which means that TalkTalk needs to recruit around 63,000 customers a month to maintain its subscriber base. That is more than the total number of television homes it is currently adding a month.
TalkTalk is hoping that satisfaction with the service will persuade customers to stay with them when their 18-month contracts expire.
TalkTalk aims to convert the majority of its customers to its television service, saying "we continue to expect that in time nearly all of our on-net customers will convert to triple play". If that happened, the number of TalkTalk television homes would overtake Virgin Media, although the average revenue per customer of the latter is higher at around £49 a month.
Offering guidance for the financial years 2015 to 2017, TalkTalk said: "We expect revenue growth to be supported by modest growth in total customer numbers, ARPU progress from disciplined pricing and promotional activity, and growing scale in TV, mobile, and fibre."
TalkTalk is investing heavily in its 'pay' television service, albeit not so heavily as BT, which has also passed the million television home mark.
Both service providers are included in the informitv Multiscreen Index, which tracks 100 leading pay-television services worldwide with over a million subscribers.
While a bundled YouView box gives customers a reason to choose or stay with TalkTalk, it does not really differentiate its offer, given that its main broadband competitors, BT, Sky and Virgin Media all offer television services.
Perhaps more significant than all the talk about television, are plans to offer true fibre to the premise services. TalkTalk has joined forces with Sky and CityFibre to broadband to tens of thousands of homes and businesses in the city of York at 'Ultrafast' rates of 1 Gigabit per second. It will use an existing metro fibre ring and microtrenching to deliver to fibre connections directly to homes and businesses.
TalkTalk says its investment to deploy to 20,000 homes will be just £5 million, with a similar cost to reach the rest of the city, working out at a significantly lower cost per home passed than for fibre to the cabinet services delivered over BT infrastructure.
There are already plans to extend to two further cities, with the potential for a national roll out in the longer term. That could be worth watching.
The informitv Multiscreen Index measures the performance of 100 satellite, cable and telco television and video services worldwide by their current digital subscription numbers. The latest report is available from multiscreenindex.com.
www.talktalk.co.uk
www.talktalkgroup.com
multiscreenindex.com