Social TV platform Buzzdial says that providing viewers with a way to share in their reactions to television shows can grow the audience, increase online discussion and create new revenue opportunities. BuzzDial aims to offer an easy way for users to participate, simply by tapping an on-screen button on their smart phone, tablet or in a web browser. Co-founded by Tom Cotter, who previously headed digital media at Television New Zealand, the start-up company is clearly thinking big and forging links with broadcasters worldwide. One media executive described it as the best thing he has seen in 15 years.

The three founders previously worked together on the creation of the TVNZ web site and Ondemand mobile apps. They left their jobs to pursue their vision for a simpler form of second screen participation.
Like Twitter, the idea is simple. If anything it is even easier to grasp.
Unlike Twitter, which requires typing a textual response, BuzzDial simply invites a negative or positive reaction by tapping one of two buttons. Unlike a poll or a vote, the result is constantly varying viewer feedback, which can be used by broadcasters within a show or to analyse audience engagement and sentiment.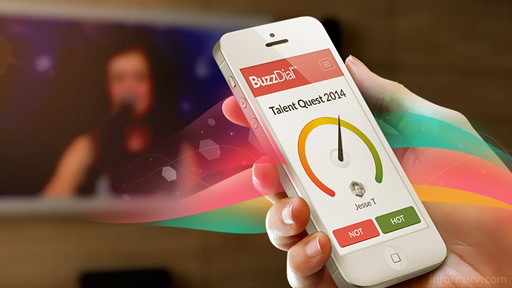 Recent research with users of Buzzdial instant reaction dials found 72% of participants said that they enjoyed the show more and 77% wanted to use the dials on other shows.
Anyone can create an account and any number of dials, specifying the negative and positive terms, which could be applied to a television show, a sports event, or any other event. Dials can be shared using a link and embedded on web pages or social networks. Dial creators get access to analytics showing details of the user response.
The most popular dials will be displayed on the BuzzDial home page, or users can search for one by name.
The web site is currently in beta but the concept has already been tested with broadcasters. After a dial was trailed on New Zealand's Got Talent the executive producer said: "This gets me much closer to the truth about viewer behaviour than ever before and is something I can't get elsewhere."
From the original clap-o-meter or 'audience reaction indicator' used on Opportunity Knocks to telephone voting on more recent talent shows, television has long attempted to invite audience participation.
Political programmes have used representative viewer panels with handsets to display a graphic trace of audience response, popularly known as a 'worm'. Similar methods have been used to test advertising campaigns or even legal arguments.
BuzzDial is attempting to popularise the approach and make it easy to engage with audiences at scale, exploiting the network effects of existing social networks.
The initial reaction from broadcasters suggests that the analogue dial could yet have an important role to play in television in this digital era.
The BuzzDial research report Instant Reaction and Broadcast Television is available from their web site.