Ooyala has announced a strategic partnership with Microsoft to deliver online video using the Ooyala platform and Microsoft Azure Media Services. The alliance will provide scale and a complete digital video workflow across their combined services. In its latest quarterly statistics, Ooyala points to the rise in viewing on mobile and tablet screens, which it expects to account for half of its online viewing by 2016. It says that over three-quarters of broadcasters and publishers it surveyed see mobile as critical to their online experience.

The partnership is something of a coup for Ooyala, given the long-standing ambitions of Microsoft in online video, which it has previously attempted to drive through its proprietary technologies.
Ooyala has focussed on using big data to analyse, optimise and monetise online video.
Through the partnership, Ooyala will be the preferred online video provider for Microsoft, which will become the preferred cloud provider for the online video platform.
"Through this alliance, Microsoft and Ooyala are in a position to seize a major opportunity together, to drive standardization of the next generation of personalized, IP-delivered video offerings, based on our combined solutions," said Sean Knapp of Ooyala. "With the robust global footprint of our respective platforms, and Microsoft's massive global workforce for sales, marketing and support, we're now in a prime position to meet the booming demand for world-class, highly scalable multi-screen TV."
"Through our partnership with Ooyala, we can offer fully integrated comprehensive managed TV and video services to our customers, and we'll work together to aggressively drive adoption among broadcasters and operators everywhere," said Bob Kelly, who is responsible for Microsoft Azure. "Ooyala's reputation for superior workflows, world-class consumer experiences, viewer analytics and monetization services enhances our platform's offerings and strengthens our ability to offer live and on-demand streaming services."
The Ooyala platform powers online video services including those of NBC Universal and ESPN in the United States and Presto, the new online movie service from Foxtel in Australia. Telstra is a strategic investor in Ooyala, which is headquartered in Mountain View, California. Founded in 2007 by a team that came from Google, Ooyala has raised over $120 million in funding, with Telstra injecting $43 million in the most recent round.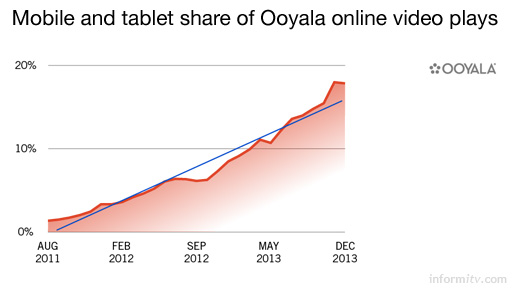 In its latest Global Video Index, Ooyala predicts that mobile and tablet viewing will account for half of all online videos by 2016, up from a quarter across its current customer base of around 200 million viewers. Sports coverage is a major feature of mobile and tablet viewing. Mobile viewers watched live sports three times longer in a single session than video on demand.
Jay Fulcher, the chief executive of Ooyala, said that sports properties are the leading innovators in online video when it comes to live and mobile viewing. "Our data continues to show major shifts in the way people consume TV and video, pointing to a global opportunity for broadcasters – particularly when sports are involved – to engage and increase their audience and maximize content rights monetization."
A recent Ooyala survey showed that 99% of respondents from hundreds of broadcasters and publishers see mobile as important or critical to their online experience. While a third of these digital media brands said they felt they knew their audience "extremely well", almost 60% said they only knew "a little" about them. 83% said they saw huge opportunity in monetizing video content on mobile devices.