The United States Supreme Court will determine the fundamental legality of the Aereo service, which allows users to watch television over the internet, through a dedicated remote antenna and digital video recorder, for a monthly fee starting at $8 a month for 20 hours of storage. An unfavourable decision could be the end for Aereo but despite powerful opposition it presents a compelling legal argument.

Aereo, formerly known as BamBoom Labs, has so far raised $97 million in venture capital and is backed by billionaire media mogul Barry Diller who chairs IAC/InterActive.
Its service launched in New York in February 2012 and the company was sued within weeks by major broadcasters. The court denied an injunction against the service and its decision was upheld on appeal, although a separate court granted an injunction in some states pending a decision by the Supreme Court.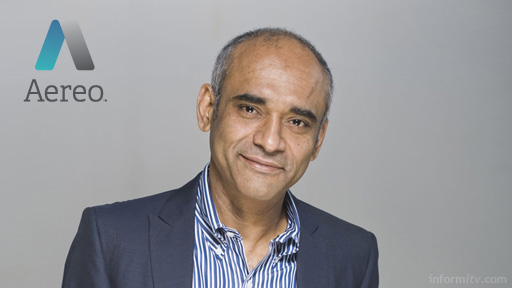 In a statement, Chet Kanojia, the founder and chief executive of Aereo said: "We have every confidence that the Court will validate and preserve a consumer's right to access local over-the-air television using an individual antenna, make a personal recording with a DVR, and watch that recording on a device of their choice."
"The broadcasters are asking the Court to deny consumers the ability to use the cloud to access a more modern-day television antenna and DVR," he said. "They are asking the Court to confine consumers to outdated equipment and limit their access to lawful technology in order to protect a legacy business model, the success of which is built on eliminating consumer choice and competition in the marketplace."
The chief executive of Aereo says there is no backup plan if his company fails to prevail in the Supreme Court.
Broadcasters, including ABC Disney, CBS, NBC Universal and Fox, argue that: "Aereo is in the business of retransmitting performances of copyrighted works to the public." They accuse the cloud-based service of being a "Rube Goldberg-like contrivance" — a reference to the American cartoonist known for drawings of complicated inventions that perform a simple operation.
The United States administration has backed the broadcast networks, saying that a company that retransmits copyrighted broadcast television programs must obtain a licence and unauthorised internet retransmissions infringe public performance rights.
The Supreme Court is scheduled to begin its judicial review of the ABC v. Aereo case starting 22 April 2014.
Aereo has filed its response brief setting out its legal arguments that its service falls within the law.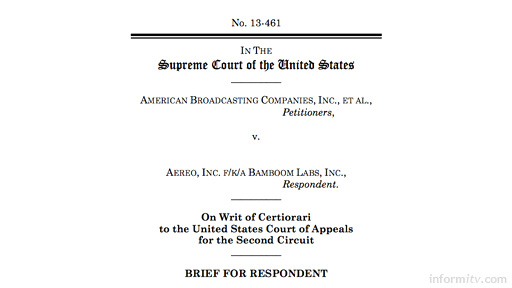 The question for consideration is whether Aereo provides a 'public performance' of programming.
The position of Aereo is that the programming is delivered freely over the public airwaves and any consumer with an antenna is entitled to receive, watch and make a personal recording of that programming. Aereo presents its cloud-based service as "the next technological step" that does not change this core principle.
In its brief, Aereo observes that copyright holders cannot claim royalties for retransmission of local or national programming. Legislation from 1992, known as the Cable Act, allows broadcasters either to require cable companies to retransmit their broadcast programming under 'must-carry' provisions or to prohibit them from doing so without 'retransmission consent', which is the basis under which many charge 'retransmission fees'. Aereo argues that this consent is distinct from copyright.
Aereo essentially argues that it does not publicly perform copyright works. It says that although a 'performance' occurs when a consumer uses Aereo it is a 'private' performance that is distinct from that of the broadcast. Furthermore, Aereo argues that its users, rather than the company, 'perform' by using the service.
Aereo relies on two significant precedents determined by the Supreme Court. The Sony case determined that the company was not liable for copyright in home video recordings, which constituted 'fair use'. The Cablevision case concerned its remote storage digital video recorder that allows a consumer to create a personal recording of programming on a remote hard drive.
So far, Aereo has had some success in the courts in maintaining its position. The Supreme Court will now determine its legality as a matter of principle and could well conclude that Aereo is within the current legislation.
The implications could be far-reaching, although perhaps not as devastating to broadcasters as they might suggest. It could open the way for Aereo to expand nationally and allow for similar cloud-based services but displacing the established pay-television model in the United States remains a major challenge.
Broadcasters may simply turn their attention to lobbying Congress for further changes to copyright law. They may threaten to remove their broadcast signals, although whether they would actually do so is another matter. They could also create their own equivalent online services.
One thing is clear — the industry will be watching the outcome with interest. Aereo represents a key test case for broadband and broadcast convergence and the potential for the internet to disrupt traditional television industry models.
Supreme Court of the United States No. 13-461. American Broadcasting Companies, Inc. et al. v. Aereo, Inc. fka Bamboom Labs, Inc.