Panasonic is bringing the award-winning Freetime service from Freesat to its television screens. The Freetime guide from Freesat in the United Kingdom was previously only available through certain Humax set-top boxes, which accounted for about 40% of Freesat box sales since its launch in September 2012. Freetime will for the first time be available to users whether they receive their television channels through a satellite dish or an aerial.

Selected models of the new range of Panasonic VIERA televisions will offer the Freetime interface, allowing users to roll back their television guide over the previous seven days, and access the online on-demand services from all the public service broadcasters, and YouTube.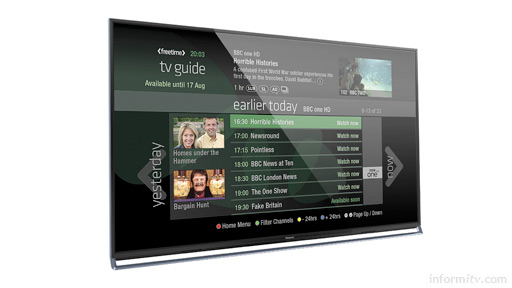 Freesat has worked with Panasonic over the six years since its launch in 2007, as a joint venture between the BBC and ITV to deliver free-to-air satellite television to the United Kingdom, to complement Freeview terrestrial television.
Panasonic was the first manufacturer to integrate Freesat in a flat-screen television and long supported multiple receiver types in its televisions. It will now be the first, possibly among others in the future, to offer the Freetime user interface.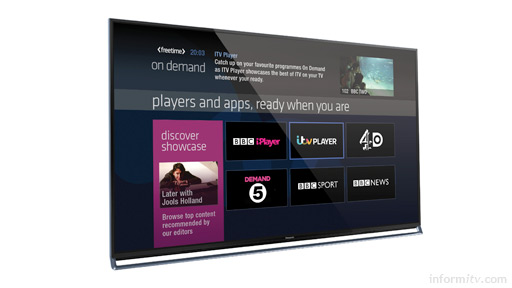 Emma Scott, the managing director of Freesat, said the latest deal with Panasonic "opens up exciting new territories for us."
The news that the Freetime will be available to both satellite and terrestrial viewers is certainly an interesting development.
The Freetime service adds links to the online offerings of the public service broadcasters, which are delivered over broadband. It demonstrates the potential for a single user experience that combines broadcast services distributed over satellite or terrestrial networks with those delivered over broadband.
Meanwhile YouView, which was conceived through 'Project Canvas' to "promote a standards based open environment for internet-connected digital television devices," has so far failed to address integrated television receivers. YouView set-top boxes have largely been bundled by broadband providers BT and TalkTalk as part of their subscription services.
Freetime was developed by Freesat, no doubt at a fraction of the cost of YouView, and delivers simple, easy to use experience that seamlessly combines broadcast and broadband, with a guide that rolls back over seven days, which was originally the unique selling proposition of YouView. Now it will work across both satellite and terrestrial transmissions.
Freetime is based on a combination of open DVB, HbbTV, OIPF and W3C HTML5 standards.
At the end of 2013, Freesat claimed its installed base was 1.8 million homes.