Liberty Global has become a member of the RDK joint venture with Comcast and Time Warner Cable. RDK or Reference Design Kit is an initiative to create a common framework for internet protocol or hybrid set-top boxes and home gateway devices. The news was announced at the Cable Congress in Amsterdam. Liberty Global will contribute technical, financial and management resources to the joint venture.

Liberty Global was one of the first operators to licence the Reference Design Kit, originally developed by Comcast. Intended to provide a common framework to avoid fragmentation, it includes a software stack based on the Linux operating system that covers the fundamental services required in a set-top box, to which service providers can add their own navigation and applications. It has been tested with traditional cable, internet protocol and hybrid devices and is being extended to accommodate European requirements.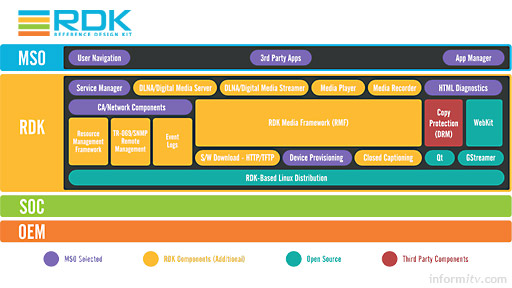 "Liberty Global was an early proponent of the RDK, and today we're taking a strategic stake in the JV because of the clear technical advantages it provides to us and the industry at large," said Balan Nair, the chief technology officer of Liberty Global.
"We believe RDK provides a baseline of standardization that will yield faster development and launch cycles of next-generation in-home devices and video services. It's a key part of our product roadmap. The combination of leading North American and European operators will enable RDK to build global scale and accelerate benefits to all RDK licensees."
Liberty Global is the largest international cable company, with operations in 14 countries, including Virgin Media, UPC, Unitymedia, Kabel BW, Telenet and VTR.
Kabel Deutschland, the largest cable operator in Germany, now majority owned by Vodafone, also recently licensed the reference design kit.
Before Liberty Global joined, RDK Management LLC was a joint venture between Comcast Cable and Time Warner Cable. Comcast has proposed to acquire Time Warner Cable in a deal worth around $45 billion.
Liberty Global has invested in its own next generation platform, Horizon, developed in partnership with NDS, now part of Cisco.
Having acquired Virgin Media, Liberty Global is also working with TiVo, which is now deployed in over 2 million cable homes in the United Kingdom. TiVo has around 4.2 million subscribers worldwide, around 3 million of them through cable companies like Virgin Media.
Between them, Comcast, Time Warner Cable and Liberty Global have nearly 50 million digital cable television customers.
Liberty Global clearly believes there are potential economies of scale in supporting the Reference Design Kit initiative. The RDK is available at no cost to licensees. So far 120 companies have joined the RDK programme.