There are around 90 million IPTV subscriptions worldwide. At the end of June 2013 the number stood at over 87 million, up 17 million or 24% on the previous year. IPTV subscriptions represent over 13% of the global fixed broadband market, which is now 656 million subscribers worldwide. Surprisingly, the United Kingdom now figures in the top ten countries for IPTV subscriptions, although that may be a matter of definition.
Nearly half of all IPTV subscribers are in Asia and more than two thirds of these are in China, with 26.7 million, although growth is reported to be slowing, says research company Point Topic.
The mature IPTV markets in North America, Western Europe and Asia all reported slower growth in the second quarter of 2013 than in the first, while the smaller IPTV markets in Eastern Europe, Latin and Central America and Oceania are growing more rapidly.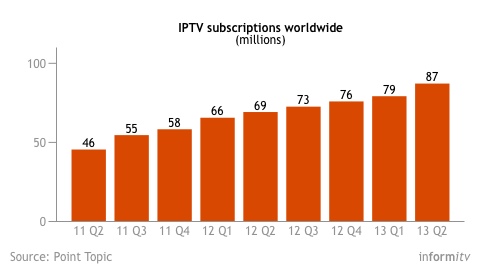 There are 14.2 million IPTV subscribers in France and 11.22 million in the United States, followed by South Korea with 7.5 million and Japan with 4.0 million. There are 2.8 million in the Russian Federation and 2.5 million in Germany. The Netherlands has 1.6 million, ahead of the United Kingdom, which enters the top ten ranking countries with 1.5 million, just ahead of Belgium with 1.4 million.
The numbers for the United Kingdom reflect the adoption of YouView, although whether customers who receive a box bundled for free with their broadband service really count as subscribers is a matter of definition. The same could be said for some 'subscribers' in other countries.
That the United Kingdom even figures in the top ten is something of a surprise, although the country ranks seventh in terms of broadband subscribers, at 22 million homes.
Having seen early pioneering services, it has lagged behind other earlier adopters of IPTV. The combined BT Vision and YouView installed base remains a hybrid offering, largely still reliant upon Freeview digital terrestrial television services.
Research firm IHS forecasts global IPTV revenues to approach €18 billion in 2013, up by more than 20% over the year.