Network Ten in Australia has launched 'tenplay', an updated web site and app as the first phase of its 'TV Everywhere' strategy that will also deploy on hybrid broadcast broadband television in the future. It is described as a transition from television to a multiscreen, multiplatform experience.
Rebekah Horne, the chief digital officer for Network Ten said "tenplay is the next stage in Network Ten's digital evolution. It represents a true transition from linear broadcasting to a consumer content experience that is multi-screen and multi-platform, giving people access to Network Ten's content anytime, anywhere and on any device."
The tenplay platform will provide live streaming and catchup programming. There is a continuous play feature that enabled viewing to 'travel' seamlessly from device to device. There are customized playlists and social and personal recommendations. There will also be deep integration with zeebox, the social television platform with which it has a deal. A dedicated app for Ten Eyewitness News will follow, as well as one for the Olympic Winter Games in Russia, for which Ten has Australian rights.
Ten has been falling behind commercial rivals Seven and Nine in its share of the television ratings, with a lower share than the ABC public service broadcaster.
Over the past year Network Ten recorded just under a hundred million online video views, in a country with a population of some 23 million. That compares to 159 million online video requests for the BBC iPlayer in August alone in Britain, which has a population of some 63 million.
The launch of tenplay marks a concerted effort to develop the online capabilities of Ten, with what is described as a best-in-class catch-up video platform.
The previous ten.com.au web domain now redirects to the tenplay site with a responsive design that places video front and centre.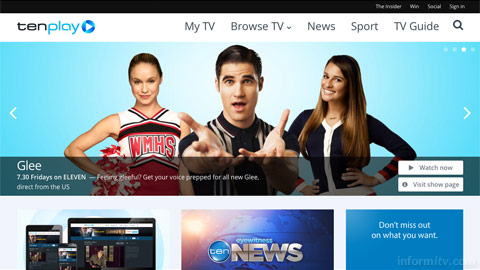 Users are encouraged to sign up as a member with their Facebook, Twitter or Google account, or with their email address, in order to store playlists or receive recommendations or notifications.
As well as the web site, the tenplay app is available on Apple iOS and Sony Bravia devices, with an Android version available later in the year.
Australian free to air broadcasters are planning to adopt the European HbbTV hybrid broadcast platform to enable integration of conventional channels and online services in compatible televisions.