The BBC iPlayer now has a new download manager and player. It replaces the previous one based on the Adobe AIR platform and drops support for Windows Media. This marks a move away from proprietary technologies. The result is a more reliable and simplified user experience, although it still seems not everyone is pleased. Although the BBC iPlayer received 234 million requests in August, up 19% year on year, the number of requests for television programmes was the lowest of the year, down from a peak of 212 million in January.
The new BBC iPlayer Downloads application is available for Microsoft Windows and Apple Mac platforms. It no longer requires users to download and install Adobe AIR and it does not support the Microsoft Windows Media format.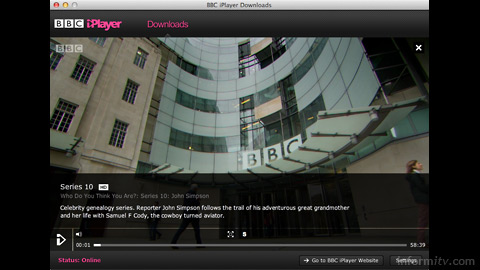 The new download manager does not currently support the 'series stacking' feature to record subsequent episodes automatically. It is also not possible to view live channels, which are available through the web site.
It is not currently possible to change the default storage location for files, which only play back through the BBC iPlayer branded application. It is not possible to resize the application window, although full screen playback is an option.
Some have complained about the loss of support for Microsoft Windows Media, which allowed files to be played back on other compatible devices. Equally, there were many critics of reliance on proprietary digital rights management. Apparently, the WMV downloads accounted for less than 0.1% of requests.
It seems that the new system uses some form of encryption in an MP4 container file, which cannot be played back using other applications.
Dan Taylor, the new head of BBC iPlayer, wrote in a BBC blog: "I appreciate some users will miss these features but I hope you'll agree that having a more reliable download solution is worth the trade off."
Judging by the comments, it seems that not everyone is pleased with the change or the lack of consultation with users.
The BBC Trust recently approved plans to make radio programming available for download. This will be rolled out in 2014.
Downloads are also available on Apple iOS and Android apps, in addition to streaming, to allow offline viewing. However, there is no easy way to download on one device and side load to another, or resume viewing where previously left off.
There were 234 million requests to the BBC iPlayer across all platforms in August 2013, up 19% on the previous year, although down from the winter high of 272 million at Christmas. Radio programmes make up over 30% of all requests.
Among television programmes, personal computers now account for only 33% of requests, down from 54% a year previously. Mobile phones and tablets now account for 40%, at 15% and 25% respectively, while games consoles and other network connected television devices account for 10% and television platform operators make up 17%.
The BBC does not report how many iPlayer 'requests' are for downloads rather than streams. With the exception of requests from Sky and Virgin Media boxes, on-demand viewing accounts for 88% of requests for television programmes, as opposed to simulcast viewing. That is almost reversed in the case of radio, with 84% of requests for live radio and on 16% for on-demand programmes.