Tesco, one of the world's largest retailers, is launching its retaliation to Amazon and its Kindle platform with a range it calls Hudl, starting with a credible 7-inch Android tablet, available for under a hundred pounds with Tesco Clubcard vouchers. It is not immediately clear whether the brand connotes something that is warm and cuddly or rather strategic, even defensive, but Tesco is promoting Hudl as technology for the mass market.
The Hudl Android tablet will compete with the Amazon Kindle Fire or the Google Nexus 7 and comes bundled with Blinkbox video, music and in the future book apps. It will also promote its own online shopping and banking services. Whether it will be able to compete with the Apple ecosystem, including the £279 iPad mini is another matter.
The Hudl tablet has a 7-inch; 1440×900 screen, a 1.5GHz quad core processor, dual-band WiFi, and comes with 16GB of storage onboard, expandable through a slot-in memory card, and a Micro-HDMI port for connection to a television. It runs the Android Jellybean operating system, offering access to apps on the Google Play store. It comes in black, blue, red and purple. The retail price is £119.99, available to Clubcard members for less than the magic £100 price point.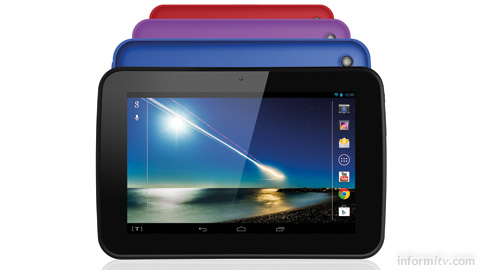 "Hudl is a colourful, accessible tablet for the whole family to enjoy. The first stage in our tablet offering, it's convenient, integrated and easy to use with no compromise on spec," said Philip Clarke, the chief executive of Tesco.
"Being online is an increasingly essential part of family life and whilst tablets are on the rise, usage is still quite limited. We feel the time is right for Tesco to help widen tablet ownership and bring the fun, convenience and excitement of tablets to even more customers across the UK. The digital revolution should be for the many, not for the few."
The tablet is likely to be joined by other devices bearing the Hudl brand. The aim will be to use these as a loss leader to promote other media services. Meanwhile Tesco has been reducing store space for flat screen televisions that produce relatively low margins.
Over 8 million tablets were sold in the United Kingdom in 2012, with 6 million sold in the first half of 2013 and sales expected to accelerate towards Christmas.
The Amazon Kindle Fire, with a lower specification, is also now on sale from £99, while the 'HD' version is available from £159.00, a price at which Amazon says it is only just breaking even on the cost of the hardware.
No doubt Tesco will bring considerable marketing firepower to promote Hudl but it may struggle to become cool for kids or the fashion conscious digerati. Nevertheless, there is a enormous opportunity in tablets as they become mainstream products as a medium for electronic media distribution.
Tesco has an 80% stake in Blinkbox, which also powers its own label online video service ClubcardTV in conjunction with its customer loyalty card. ClubcardTV is free to Clubcard customers, supported by targeted advertising. Tesco also controls Dunnhumby, the customer database company that helped launch its loyalty card business.
Blinkbox is now being heavily promoted as an alternative to subscription services like Netflix and LoveFilm. Adrian Letts, the chief executive of Blinkbox said: "We have ten times more of the latest blockbuster movies than Netflix and Lovefilm Instant and want to help customers understand the benefits of blinkbox by adding some colour and theatre in stores. It's an unprecedented level of in-store commitment to a digital service." Tesco stores will sell voucher cards promoting the service.
Tesco also has 3.5 million mobile phone subscribers, operating as a virtual mobile network operator on the Telefonica O2 network.
With over 3,000 stores in the United Kingdom turning over more than £43 billion a year, generating £2.2 billion in trading profits, Tesco is a major retailer. It was the first multiple retailer in the country to introduce online shopping for groceries.
This move is part of Tesco's multichannel market strategy. Michael Comish, who co-founded Blinkbox in 2006, was recently promoted to the role of group digital officer. Tesco says it is investing £488 million in digital technology in 2013.