Among the many user interfaces on show at IBC this year was a brand new multiscreen experience called Graphyne presented by Advanced Digital Broadcast. While many companies are talking about multiscreen solutions, ADB is offering something that works today, consistently across its latest set-top box and Apple or Android smartphones and tablets.
The ADB Graphyne framework treats all media types equally, including live television, online video, music, photos and third-party applications. It features a simple and fresh design with big bold typography that allows users to access multimedia content and applications on the device of their choice. The user experience is replicated across all devices and it is designed to allow new services to be added without changing the navigation paradigm.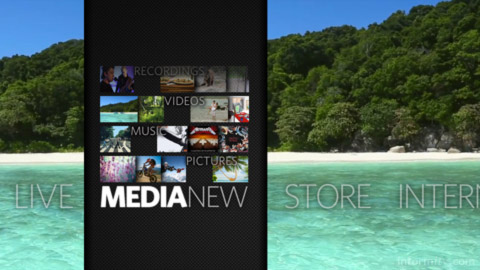 ADB says that with Graphyne the set-top box or home gateway is transformed into a multimedia hub that makes switching between photos, songs and video as quick and easy as changing channels. Indeed, it seems very fast in operation, based on native code rather than HTML5, although web apps are also supported.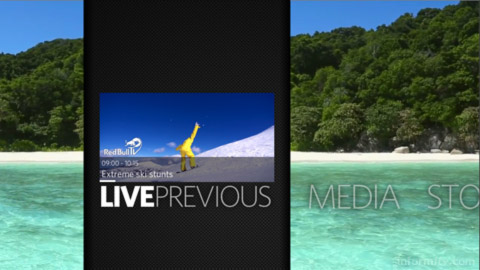 A 'follow me' function enables users to switch seamlessly between devices in a multiscreen environment and continue the same experience.
A simplified remote control uses a subset of keys for navigation, while retaining numerical access for channels for those that wish to use them. Subscribers can also use their Apple iOS and Android devices as remote controls, and the system can automatically personalise the experiences for individual users with their own favourites.
"Our user research revealed that users want simplicity but love consistency," said Paul Bristow, the vice president of strategy, middleware and consumer experience at ADB, who demonstrated the system to informitv. "For years the industry has wrestled with the challenge of designing a menu that can navigate all types of content. By overcoming this hurdle we believe the pay-TV and broadband industries have the opportunity to build subscriber loyalty and strengthen their position in a very competitive space."
"Graphyne cements the multimedia service providers' position as the entertainment hub of the home," suggested Peter Balchin, recently appointed as the chief executive of ADB. "While smartphone and tablet interfaces have changed users' expectations, too many TV EPGs are stuck in the '90s. Now, with Graphyne's dynamic multi-screen interface, operators can engage more closely with users, building a closer relationship by meeting all their entertainment needs on multiple screens in a compelling fashion."
ADB also launched a 'wideband' digital video recorder and media hub for cable. The box may look unremarkable but notably it includes eight tuners. The first deployment will be with Canal Digital in Norway, where subscribers will initially be able to record up to three channels while watching a fourth. At a later date, Canal Digital will enable subscribers to use the DVR as a whole-home media gateway serving up to five other devices simultaneously. The availability of multiple tuners can also reduce channel change times by decoding preceding and succeeding channels when moving up and down the programme guide.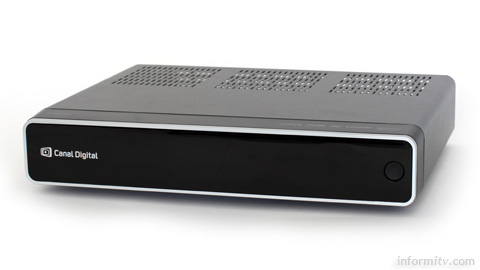 Meanwhile, ADB announced nc+, the largest satellite operator in Poland, as its first multiscreen customer, based on its existing Carbo user interface. This has been deployed to set-top boxes already in the field, allowing in-home redistribution of programming to iOS or Android devices, without the need for an additional hardware transcoder gateway. When subscribers are outside the home, a cloud-based model can redistribute live broadcast channels to authorised mobile devices.