With the acquisition of Mediaroom from Microsoft, Ericsson has suddenly become the global market leader in IPTV. Behind the scenes, Mediaroom is being completely redesigned to create a modern multiscreen platform that works across devices and displays to provide a personalised viewing experience. William Cooper of informitv spoke to the team behind the new platform and took a first look at the new Ericsson Mediaroom.
The original Mediaroom was very much built around a set-top box and a traditional grid guide. It offered a whole home digital video recorder through multiple set-top boxes. The interface was slicker than many of the available alternatives, with fast channel change being the main feature. It was based on Microsoft software and was very much an operator platform to compete with cable and satellite. Third parties bolted on applications for other devices but there was no integrated multiscreen experience.
The new Mediaroom has evidently been designed to create a seamless experience across multiple screens, with a similar look and feel on each display. It is based on HTML5 and has a more visual interface, designed for high-definition displays and handheld devices. It is already looking forward to 4K ultra-high-definition screens.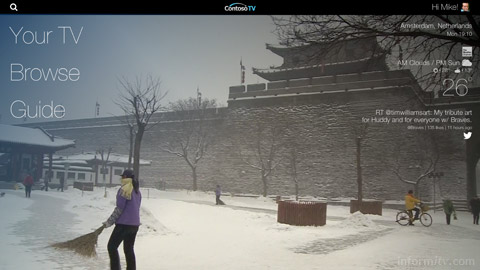 Although Ericsson only recently closed the acquisition of the Mediaroom business, the team has been quietly redeveloping the platform in the background over the last year or so and they seem to have learnt a lot more about television viewing in the process.
Pete Thompson, who now heads up the business unit within Ericsson, became leader of the Mediaroom unit 18 months previously, having been a general manager at Xbox Live.
He talked of the rise of mobile devices. "Basically that leads to having to rethink your design points for how you develop video platforms," he observed. "We've had to go back and look at this to redesign the architecture to ensure that it's not just a set-top box but you should be able to deliver video equally to any device. That's a whole mindset change that the industry is going to have to adapt to. That is a huge turning point that will drive a lot of change within the industry."
Ted Malone, who previously worked at TiVo, Sling and latterly Microsoft, demonstrated a proof of concept prototype. He described it as an "entirely cloud-based, green field platform that we've been building". Meanwhile, they have been working with existing customers on how to migrate them to this new platform.
"This entire system is cloud based, built with HTML5 and JavaScript. Everything you see on the interface is dynamic, based on who is watching," he explained.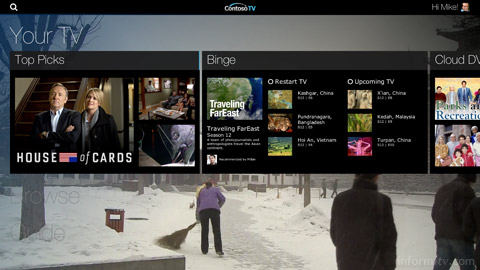 That does not mean logging in to the television. It is envisaged that the system will identify who is in the room based on their personal devices. It will have a touch screen remote interface that works on a smartphone, tablet or in this case an iPod Touch, but a conventional remote control with voice input is also planned.
So the first thing you see on screen is a personalised selection of recommendations, based on the viewing history and daily viewing patterns of those in the room. There is a lot of focus on programme discovery, rather than the channel flipping that was presented as the main feature of the original Mediaroom platform.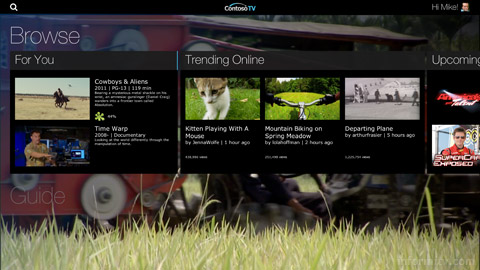 Some of the prototype screens strangely have 4:3 aspect ratio programme imagery, which is apparently down to the current provider of metadata. The size of the text requires either a seriously large screen or very good eyesight. No doubt these are issues that will be addressed through further user testing. At the moment it looks more like an online or tablet interface than a televisual experience.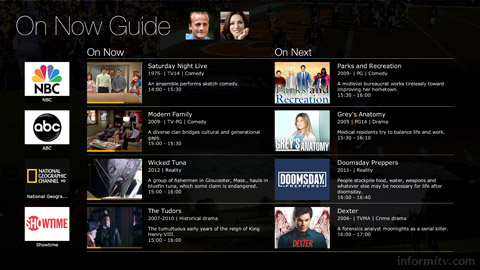 The service will also blend traditional channels with video on demand, online video services, and potentially cloud-based digital video recording. There is also the concept of a dynamic channel based on personal interests, rather like some online music services. Along with personalisation, there is the potential for highly targeted advertising.
The move to web technologies and network based services facilitates a consistent and coherent experience across multiple screens. It also allows other approaches to be adopted from the web, such as A/B testing of propositions across comparison groups of customers.
"I think you're going to hear more about operators starting to run their services like a web site," suggests Ted Malone. "So they're not just using HTML and JavaScript as a more agile way to update their interface but they're going to use it combine with analytics to make more money."
He demonstrated how a large living room screen and a tablet can be used in conjunction. With a voice command "Show results on my tablet" a set of suggestions can be browsed on the touch screen and a selection can be either transferred to the main screen or carried to another room and possibly be shown on another screen.
This is still a proof of concept but it is a promising start. For once, the focus is on creating enhanced viewing experiences, rather than the delivery technology. The approach is evolutionary rather than revolutionary. None of these elements is necessarily new, but if they can be integrated successfully, Ericsson Mediaroom could lead the field in multiscreen television platforms.
Mediaroom currently claims 13 million subscribing households and has been growing at 20% year on year. Its largest deployment is with AT&T, with just over 5 million subscribers. There is significant potential for growth in other emerging markets. Mediaroom is well placed within Ericsson to engage with telecommunications operator customers worldwide.