The BBC has launched a campaign to promote the benefits of connected television. The on-air promotions are supported by a dedicated web site and are intended to improve awareness and uptake of new technology and platforms, raise media literacy and help users to get more value from their licence fee. The idea is to promote the message that "The Future of TV is Connected".
While a recent YouGov poll estimates that 13% of adults in the United Kingdom have a Smart TV, fewer than half of them use the set to access online programmes on a weekly basis.
The new campaign aims to promote the concept of catch up television but rather than just talking about the BBC iPlayer the message is that "The Future of TV is Connected — Are You?"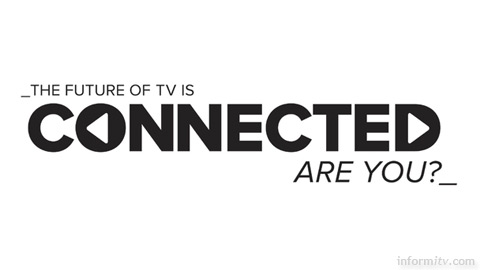 The BBC says that the same branding is being shared with other public service broadcasters and connected television providers to provide a consistent visual message.
The promotional spots look like they were produced by two competing teams on The Apprentice. The gimmick is that the advice is delivered, in supposedly witty am dram style, by a character from the show walking into the room of the viewer. One is inexplicably a scouse panda from a natural history programme while the other is a charmer from a period drama.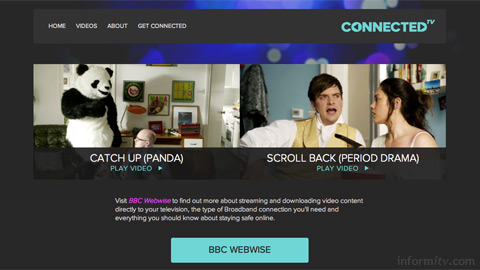 The associated thefutureisconnected.co.uk web site provides generic and rather superficial information about connected television, with links to a number of platforms, manufacturers and products.
Notably, it includes links to Freesat, Freeview, YouView, BT, TalkTalk, Virgin Media and Sky.
Although YouView is listed first, the BBC is obliged to give equal prominence to other platforms, including Freesat and Freeview, in which it is also a shareholder. Interestingly, BT and TalkTalk benefit from being listed separately as service providers, while Humax, which manufactures the retail YouView box does not get a mention.
The site is neutrally branded but it is littered with links to the BBC web site, which is hardly an incentive for other broadcasters to participate.
Although the intention is to be consumer friendly, the language of "platforms" and "devices" tends towards industry jargon.
It is apparently simple to set up a Smart TV: "The technology is incorporated into the set itself, so all you need to do is connect it to your broadband supply, either wirelessly or directly through your router using an Ethernet cable." That's it.
While the internet is increasingly seen as an essential utility, the term "broadband supply" is meaningless, while only techies like to talk about routers and Ethernet cables. Why not simply say a smart television can connect to the internet through a home network, either wirelessly or using a network cable?
It is a laudable initiative, rather like previous campaigns to promote digital switchover. Unfortunately it seems like an in-house job rather than anything a respectable agency would produce.
Catching up on television programmes you may have missed is one feature of connected television, arguably the primary benefit, yet this ignores other potential applications that are more disruptive to broadcast platforms, like watching videos on YouTube or Netflix.
One can only hope that prime time exposure will help to promote the concept of connected television, a term that has yet to achieve widespread adoption outside the industry.