Comcast has revealed the next generation of its Xfinity platform, known as X2. Brian Roberts, the chairman and chief executive of Comcast announced the upgrade in a keynote presentation at The Cable Show in Washington. Will it be enough to reverse the continuing loss of customers from the cable company to satellite and telco competitors?
In the Comcast keynote he conceded that as far as the TV Everywhere initiative was concerned "We haven't made it as easy as we need to" but he added: "We're heading in a good direction".
He gave a speed demonstration over the Comcast network, with a 4.2GB vacation video from Paul Allen, shot in 4K ultra-high-definition. It downloaded in seconds over a 3.2Gbps connection, 300 times faster than the first broadband demo he did back in 1996.
For a demonstration of the Future of TV, he claimed that the cloud is a game changer. The cloud means different things to different people, but in this case it seems to mean the Comcast network.
At the Cable Show in Boston the previous year Comcast showed how it could move the smarts out of its cable box and into the network, to create what it calls the X1 platform. By the end of 2013 this will apparently have rolled out nationally.
At this Washington show, Comcast announced its successor, the X2 entertainment operating system, and demonstrated the XI3 box, which is four times faster yet three times smaller than its conventional cable box.
Apparently that is because it does not have a hard drive and stores programmes in the network, although neither the keynote nor the press release made explicit reference to this, beyond talking about "cloud-based technology".
Still, the user interface looked slick and was clearly a point of pride.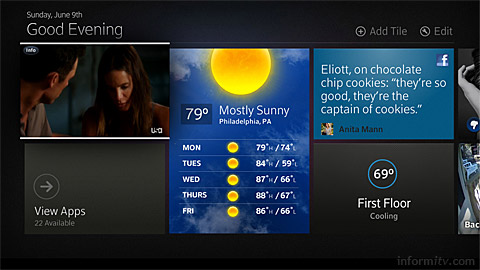 New features include a customisable dashboard to enable customers to have a personalised home screen on television and across mobile devices, with tiles including apps, news headlines, voicemails, or even home heating and security settings. No mention of Hulu or Netflix, strangely.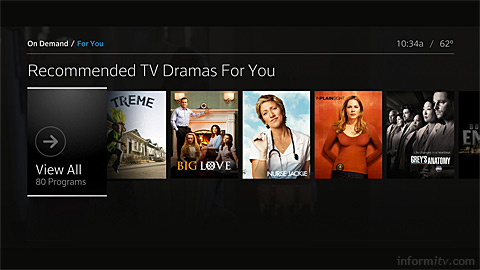 There will be a new carousel guide that filters television listings by category or age appropriateness, providing recommendations based on previous viewing.
"Welcome back" it said on the screen, but it was not clear how it knew who was watching, raising the question of to whom the experience is actually personalised.
The remote control includes optional voice synthesis feedback and allows voice commands, Siri style.
"Find movies about basketball," he said and the box obligingly delivered. Not that most people probably choose their viewing that way, but at least it worked.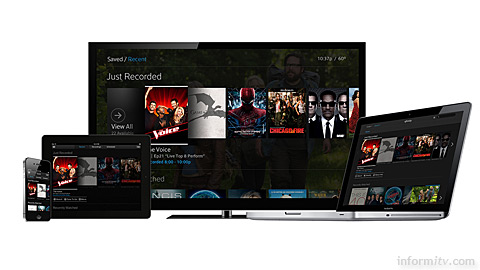 A new user interface for televisions, personal computers and mobile devices will enable customers to manage their programming and preferences from any screen. They will also be able to begin viewing an on-demand programme on one screen and resume from where they left off on another device.
Social features are included, including viewer ratings from Rotten Tomatoes and Zeebox. Users can also track their social feeds or photos on Facebook and Twitter.
The first phase of the rollout of the next-generation platform will begin later in 2013, although it could still be some time before it is available to Comcast customers nationwide.
Beginning immediately, the existing X1 platform will incorporate a send to television feature that enables customers to fling a web page to their set-top box to view it on the big screen, using a bookmarklet in their browser. Customers will also be able to access television optimised sites from a range of partners in an app marketplace.
Customers will still not be able to view any show on any screen, even in their own homes, due to contractual constraints with programming partners.
Notably, the keynote demo was restricted to the set-top box, and did not make any specific claims for what will be possible on other devices.
"I think we're just scratching the surface," he concluded.
It all sounds like progress, but will it be enough to reverse the consistent decline in Comcast pay-television subscribers?
The number of Comcast television subscribers has fallen every year for the last five years, with a net loss of over 2.75 million homes. That would be disastrous for most operators, but with 22 million customers, Comcast remains the largest pay-television provider in the world.
Comcast has clearly learned from the experience of others and the X2 user experience seems to be a significant step forward. If Comcast can succeed in moving programme storage to the cloud it will open up interesting usage scenarios, rights permitting.
www.thecableshow.com
www.comcast.com
www.comcastcorporation.com