Lord Sugar is leaving YouView, the troubled television venture, after a boardroom bust up when he said he was quitting. What has been described as a heated exchange in front of astounded executives from British broadcasters reportedly ended with the man that originally brought him in to chair the consortium shouting "You're fired!"
Lord Sugar is best known to British television viewers as the famously straight-talking front man for The Apprentice. At the end of each episode he dismisses an unsuccessful candidate with the words "You're fired!"
The consortium of broadcasters and broadband providers said in a statement: "Lord Sugar is to step down from his role as non-executive chairman of YouView in the next few weeks". The search for the next chairman of YouView continues.
"When I joined YouView in 2011, my brief from the shareholders was to use my experience in the electronics industry to get the product to market and into the homes of consumers," Lord Sugar said. "Having done that successfully, my job is complete and I will now focus my time and attention into my other businesses."
Lord Sugar told his 2.7 million followers on Twitter: "I'm leaving as Chairman of YouView. It was great to be involved bringing my expertise to launching a new television technology."
He was brought in as non-executive chairman in March 2011, on a reported salary of £500,000 a year. His appointment was apparently at the suggestion of Richard Desmond, who runs Channel 5, one of the shareholders in the consortium.
The YouView venture has been beset by problems and delays since its inception. It launched two years later than originally planned, too late to benefit from the London Olympic Games.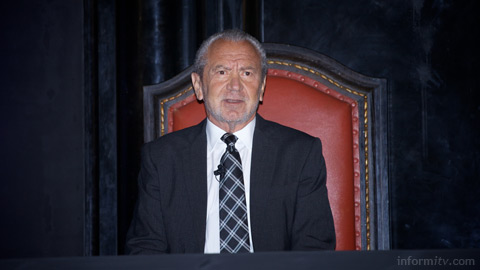 YouView was formally launched in July 2012, by which time the venture had spent £70 million, including ten million from the BBC, which Lord Sugar described as "a cheap price to pay for this great piece of technology". The YouView digital video recorder was originally marketed at £299.
It probably did not help that at the launch Lord Sugar candidly described the initial offering as a "carcass of this great new television experience" with a "minimum amount of content and facilities and features," saying that he would not be surprised if there were products for £99 in a couple of years.
As expected, BT and TalkTalk began offering their broadband customers free YouView boxes in the autumn.
While the box has been well reviewed, other products match its features and consumers seem to be more interested in buying big flat-screen televisions, many of which now include online access to services like the BBC iPlayer.
YouView says it is the fastest growing television platform in the United Kingdom, although that does not take into account the millions of televisions that are sold in the country every year.
At the end of 2012, BT had 60,000 YouView customers and TalkTalk had 80,000, while no retail figures have been released. BT is continuing to support its own BT Vision platform in parallel, with around 770,000 customers.
Freeview and Freesat have continued to build momentum, with over 10 million and 3 million homes respectively, while Sky and Virgin Media have similar numbers.
YouView is a consortium comprising the BBC, ITV, Channel Four and Five, BT, TalkTalk and Arqiva. It was originally conceived at the BBC as Project Canvas in October 2008, before the Competition Commission blocked Project Kangaroo, another joint venture between the BBC, ITV and Channel Four, in February 2009.
What was originally proposed as a standards based open environment for internet connected television devices somehow became a proprietary platform based around a digital video recorder designed mainly to meet the needs of broadband providers looking to replace their own systems.
So far, none of the multinational consumer electronics companies, like Samsung, LG, Sony or Panasonic, have supported YouView, and the original partners Cisco and Thomson walked away, while BT dropped Pace as a supplier, leaving Humax and Huawei as the only manufacturers.
At launch, YouView seemed to be missing many features in a desire to keep it deliberately simple. There were no apps, no media sharing, no social functions, and no second screen integration. A companion app for the Apple iPhone, iPad and iPod Touch was subsequently released in December.
Some have described the YouView hybrid broadcast and broadband box as offering too little too late, leaving it to catch up with the competition.
If it can maintain momentum, the number of YouView homes could eventually grow to a few million, backed by bundling with broadband services. But with Freeview and Freesat continuing to develop and promote their platforms, backed by common shareholders in the BBC and ITV, YouView has yet to demonstrate mass-market appeal.