The latest update to the YouTube app for Apple devices allows users to play and control videos and add to a playlist on a compatible television. In some ways similar to the Apple AirPlay feature, the Send to TV capability was previously provided as part of the YouTube Android app. Support for pairing the second screen with a large shared screen is becoming increasingly broadly adopted and promises to change the way in which we interact with the television.
Anyone that has used AirPlay with an Apple TV device will know how easy and satisfying it can be to send video wirelessly from a handheld device to a connected television. The only real problem is that users need to have an Apple TV device and then select it as an input device to the television. What is really required is a way of doing this with any smart television or connected television device.
The updated YouTube app on an iPhone or iPad and compatible device can be used as a remote control to play and control a video or add videos to a playlist.
Users initially need to select "Pair YouTube TV" in the settings and then enter the numeric pairing code generated by the app on the display or device to be linked. After pairing, users can play and pause videos, jump to a new position, and browse for other videos while the video plays on the television screen.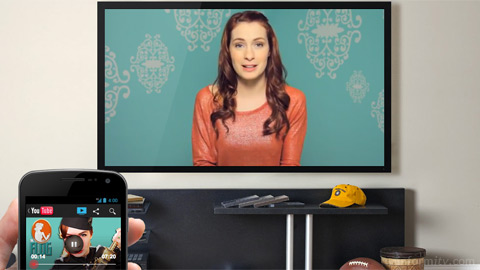 The pairing feature was previously available on the YouTube app for Android.
Pairing is now supported on Android, iOS and Windows Phone 8 devices, with selected recent televisions and disc players from Samsung, LG, Sony, Panasonic, Philips, Vizio, plus Xbox 360, PS3, and Wii games consoles, and certain TiVo devices, including the Virgin Media box. It should also include the latest Freesat <free time> boxes.
It is not just limited to YouTube, although as the most used online video service on the planet it has considerable influence. Any app developer can implement similar features using a protocol known as DIAL, which stands for DIscovery And Launch. DIAL is intended to allow second screen apps to discover and launch apps on first screen devices. As previously covered by informitv, DIAL is an open specification that can be freely implemented without royalties.
Using a handheld device to control a large-screen display seems intuitively to present an obvious use case for connected television. A handheld touch screen generally offers a better user interface that can be navigated without necessarily interfering with the display on the main screen.
As informitv has long suggested, users want choice, convenience and control. An open standard to facilitate the interaction between personal devices and a large shared screen goes some way to addressing this. It means that third-party apps can take control of the screen and interact directly with an app running on the connected device or display.
Of course, it is deeply disruptive to those that may seek to control the television experience, including pay-television platform operators and consumer electronics manufacturers. For anyone else interested in delivering media to the television screen, this is one to watch.