Yahoo! is expanding its partnership with Samsung in the United States to integrate Yahoo! Broadcast Interactivity audio recognition into current and future Samsung Smart TV products. One of the main aims is to enable interactive television advertising. Yahoo failed to find great success with its early attempts at connected television widgets. So will this latest partnership fare any better?
Powered by its patented SoundPrint automatic content recognition technology, Yahoo! Broadcast Interactivity will be deployed in the Samsung SyncPlus platform. The system is able to identify live or recorded television programming through audio fingerprinting. The integration will be delivered in the latest firmware update to the 2012 range of Samsung Smart TVs in the United States and incorporated in future models.
Samsung smart television owners will receive real-time "subtle, on-screen prompts" allowing them to access content or offers related to the television shows and commercials they are watching.
Television programmers can provide complementary content such as trivia, show insights, commerce of interactive gaming "to extend engagement". Showtime Networks and National Geographic Channel are named as two of the initial programming partners.
The partnership also aims to create new forms of interactive television advertising, enabling advertisers to embed calls-to-action for downloading apps or digital media, providing coupons, ordering samples, reading reviews or viewing product information.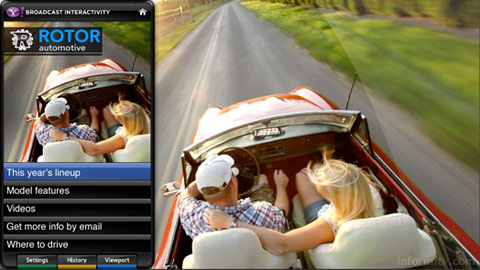 "By combining watching TV with engaging content, we can change the way audiences are entertained and informed," said Ron Jacoby, the vice president of Connected TV at Yahoo!. "Content owners can augment their programming, and advertisers can create compelling calls-to-action that allow audiences to engage on marketing messages the moment they are delivered."
"Samsung's SyncPlus service combined with Yahoo! Broadcast Interactivity and SoundPrint will provide consumers with a very entertaining experience," added Eric Anderson, vice president of content and product solutions at Samsung Electronics America.
Since the first attempt to promote interactive television widgets pioneered by Yahoo! we have seen the rise of smart phones and tablets which arguably provide a more appropriate screen for interactivity connected to television viewing.
Samsung is one of the main manufacturers with a complement of smart televisions, smartphones and tablet products that could benefit from this.
SoundPrint technology powers the IntoNow app. Yahoo! acquired IntoNow in 2011 for a reported $20 million. Marissa Mayer, the new chief executive of Yahoo! has promoted former IntoNow founder Adam Cahan to senior vice president of emerging products and technology to oversee mobile, connected television and Flickr developments.
Yahoo! already has a partnership with Sony for Broadcast Interactivity platform. An example use case promoted on the Yahoo! web site to "turn distracted viewers into captivated viewers" says that when watching a television ad for a Sony camera, tablet or 3D TV, "viewers can vote for the product feature that is most important to them". That should play well with Samsung.