Virgin Media has launched an online video service for its customers, allowing them to stream up to 45 channels and up to 4,000 hours of on-demand programmes on computers, laptops, tablets and smartphones, anywhere in the United Kingdom. Virgin TV Anywhere is available to Virgin TV customers at no extra cost and includes an app for mobile or tablet devices and a new web site for laptops and personal computers. TiVo users will also be able to manage their boxes remotely. It is a step in the right direction, but like other similar services suffers from limitations at launch.
Cindy Rose, the executive director of digital entertainment at cable company Virgin Media, said: "Virgin TV Anywhere builds upon our fantastic TV service, blending in the best of TiVo and our expertise in broadband and mobile, to bring customers a compelling entertainment experience to enjoy whenever they want, wherever they are — all at no extra cost."
There will be up to 45 television channels available at launch, depending on customer package and method of access. It includes access to premium channels such as Sky Sports or Sky Movies for subscribers to those channels, although they will only be available online, not through the app, apparently due to rights restrictions. Other channels available include CNN, ESPN and Disney. Notably, the offering does not currently include the main public service channels from the BBC, ITV, Channel Four, which account for more than half of all viewing. The announcement promises that Virgin Media will be adding further channels to the line-up in due course. Streaming requires a fixed or wireless broadband connection but 3G or 4G mobile networks are not supported.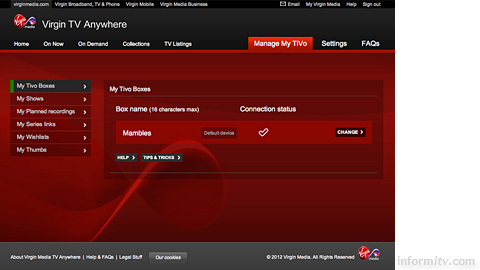 The on-demand programming is only available online at launch, with mobile and tablet device support planned for 2013. It includes integrated access to the catch-up services from the BBC, ITV, Channel Four and Five. Sky Sports and Sky Movies on demand are available for subscribers to those services. Other programming includes packages from Discovery and National Geographic, plus Disney, Nickelodeon and Cartoon Network, which could be a boon for those with kids.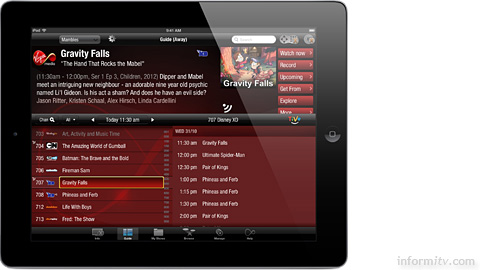 The app will be available initially on iPad, iPhone and iPod. Android support will follow in 2013. Up to two devices per customer, including laptops or computers, can be registered at any one time, which may be rather restrictive for some. Customers can change registered devices on a monthly basis.
Customers with the Virgin Media TiVo service will be able to manage their boxes, including scheduling and deleting recordings and rating shows, and use the app as a touch and gesture based remote control when at home on the same local area network as the box. Social networking features allow users to let others know through Facebook and Twitter what they are watching or planning to watch. Unfortunately it is not yet possible to view programmes recorded on the TiVo box on the second screen device, either in the home or remotely.
Parts of the user interface design for the online part of TV Anywhere were created by Red Bee Media. Their director of creative services said pay-television subscribers expect to be able to access their live and on-demand programming in any location and via any device.
"This formed a key part of our thinking when we designed a signature user interface for the online component of Virgin Media's new Virgin TV Anywhere platform," he said. "It was vital that the user experience was seamlessly integrated into Virgin Media's existing portfolio of services and for the social integration and content recommendations to be intuitive and easy to use."
The long overdue Virgin TV Anywhere offering from Virgin Media is competitive with similar services offered by Sky. In both cases, the service providers are offering customers more flexible ways of accessing programmes. However the limitations on the number of customer devices that can access them, for rights reasons, is rather restricting.
Customers are still some way away from being able to watch whatever they want, wherever they want, whenever they want. Rather, they have more flexibility to enjoy the services for which they are currently playing, which may be enough to retain their custom.