Freeview, the trade mark brand for digital terrestrial television in the United Kingdom, is marking its tenth anniversary and the end of digital switchover. A new television advertising campaign to promote Freeview+ digital video recorders is now running in the face of promotion for the rival YouView platform. A proliferation of apparently competing brands serves only to confuse consumers, but the established brand equity in Freeview is substantial.
The Freeview advert features a sleepy British town with white balloons in the shape of a plus sign falling from the sky like snow, with no strings attached.
The Freeview television campaign is running on ITV, Channel Four and UKTV, supported by radio spots and pre-rolls on the ITV Player and VOD online services.
The soft imagery is contrast to the advertising for YouView, which features television imagery projected on stark urban streetscapes on dark winter nights, looking more like a television licensing enforcement campaign than an attractive consumer proposition.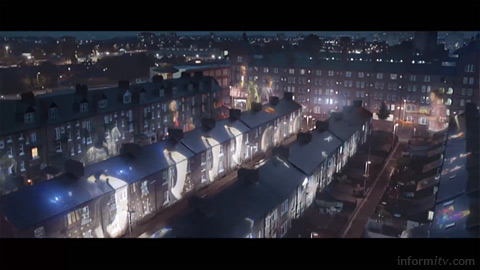 Some may have been under the impression that YouView would in some way supersede Freeview, including those involved in the YouView project, but Freeview is the most widespread digital television service in the country with a well-established brand that has been promoted for a decade.
With digital switchover finally complete, Freeview now offers high definition channels across the country and Freeview+ provides the convenience of a digital video recorder in a retail product that requires no ongoing subscription.
"This month is a key milestone for Freeview as we celebrate ten years in the industry," explained Guy North, the marketing communications director for Freeview. "It is also the end of digital switchover which means everyone in the UK can now receive Freeview and Freeview HD channels."
"Freeview has grown to be one of the most loved brands in the UK, we are extremely proud of that and will continue to keep giving viewers what they want and deserve: free, quality TV in the format they choose," he said.
A poll commissioned by Freeview indicates that the introduction of technology that allows viewers to watch programmes when they want has been the most important technical development in television.
Television catch-up services such as BBC iPlayer, ITV Player and 4oD were cited as the most important development of the period by 36% of respondents, with digital video recorders mentioned by 14%. Digital switchover, giving universal access to free digital channels across the country also scored highly, rated most important by 10%. The launch of 3D TV ranked eighth of the ten options with 5%, with mobile TV in 9th place at 4%.
"The rapid pace of technological change has offered viewers greater choice in how and when they choose to watch their favourite programmes, and dramatically improved the viewing experience," said Ilse Howling, the managing director of Freeview. "Our focus for the next decade will be to continue to bring people vibrant and high quality TV for free, in the format they want by making technology accessible."
It seems Freeview, which is managed by DTV Services Ltd, a company owned and run by its five shareholders — BBC, BSkyB, Channel 4, ITV and Arqiva — is undaunted by the recent launch of YouView. The BBC, ITV and Channel 4 and Arqiva are also backing YouView, with the addition of Channel Five, and broadband providers BT and TalkTalk. Sky is notably absent from the YouView consortium, but has effectively co-opted a place on the platform for its Now TV branded service.
Freesat, a separate platform to promote free-to-air television on satellite, is jointly owned by the BBC and ITV. Its latest cleverly named <free time> offering is a match for YouView and also promises to integrate on-demand services from the BBC, ITV, Channel Four and Five. Freesat is also promoting its offering with a series of television adverts.
So where do all these separate services leave consumers in the run-up to Christmas, other than rather confused?
The common shareholders in all these television platforms are the BBC and ITV, who are responsible for just over half of all television viewing in the country. Their share of viewing continues to decline in the face of multichannel and pay-television expansion. Ten years ago, the three most popular channels from the BBC and ITV accounted for over 60% of viewing.
Why then do these major broadcasters appear intent on managing decline by backing multiple platforms with confusingly similar names and consumer propositions, rather than rallying together and promoting a single free television marketing message with a clear brand hierarchy?
Freeview has succeeded largely as a result of a simple offering that provides a range of free digital terrestrial television channels to replace the analogue ones that have now been switched off. It is available by default in virtually every television sold in the country.
Total cumulative sales of Freeview receivers, including televisions and other devices, passed 60 million in the United Kingdom in 2010, GfK Lektrak reported.
Total viewing via digital terrestrial television transmissions has grown from 1% in 2002 to a 43% share in 2011, when for the first time its share surpassed digital satellite, according to BARB data.
We must wait to see how well YouView will do in comparison. BT has yet to provide any figures, but BT Vision, which the company confusingly continues to market, has only garnered just under 750,000 homes since it launched at the end of 2006.
Meanwhile, Freeview is still synonymous with free-to-air digital television in the United Kingdom, to the extent that it would be marketing madness to lose the brand.