The British commercial broadcaster ITV has added a paid element to its online video service, offering users the opportunity to "rent" programmes from its archive, free of advertisements. Catch-up programming will remain available for no charge, supported by unavoidable advertising. The new version of the ITV Player is available in "beta" and it looks like it still needs testing. The real questions are around the business models of paying directly for programmes.
The ITV player is available on the web, on Android and iOS phones and tablets, on Sony PS3 consoles and on television through Freesat, BT Vision and Virgin Media TiVo boxes. Presumably it will also be available through YouView. So far the payments only appear to be integrated on the web.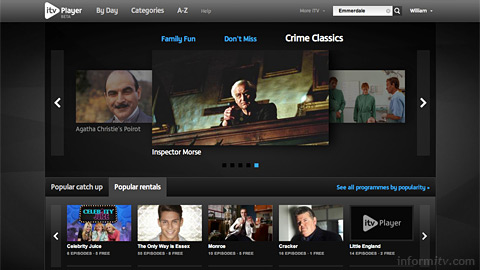 ITV Player offers a wide range of catch-up programming from the previous thirty days, supported by advertising, making the unmissable unskippable. Users can also pay from 49 pence per episode, including VAT, to watch advertisement-free programmes from the ITV archive, although the available selection is currently rather limited. Full series of box sets are available to view for up to 90 days at a discounted price.
ITV also plans to trial online programme premieres, allowing users to watch the next episode of a series before it is transmitted. That could tempt some but may well spoil it for others.
James Micklethwait, the online product director for ITV, said: "Our all new ITV Player is a huge step forward in offering our viewers not only an improved catch-up experience but also the chance to access a wider range of ITV's rich mix of programming, on demand, for a competitive price. We see this as offering our viewers a little bit extra for a little bit extra, and look forward to evolving and improving the new Player going forward."
The idea of "rental" is rather a hangover of the days of videotape libraries. Whether people really think about "renting" a television programme is another matter. Unfortunately, it draws unfavourable attention to the cost benefit analysis.
Is Hell's Kitchen worth 79 pence an hour, or £4.99 for a series of 14 episodes, a "saving" of £6.07? It probably depends how much you earn and how much 14 hours of your life is worth.
It is perfectly possible to test this price sensitivity through consumer research, but the current price points appear to reflect the aspirations of the seller rather than the realistic expectations of the viewer. Even the idea of a fixed price appears rather unsophisticated compared to other online businesses.
Speaking of rentals, Rising Damp, a classic comedy about a landlord and his tenants, is among the dusty archive of programmes that ITV is promoting, with the warning that it "contains some moderate racial references". Rather bizarrely, it is presented as a low rent opportunity to "catch up" — at 49 pence an episode or £1.99 a series. The October 2012 date given seems to relate to its recent publication, rather than that of the original transmission, back in 1974.
More recent programming includes Secret Diary of a Call Girl, which "contains scenes of a sexual nature, nudity and some strong language." There is a free episode, available to anyone who ticks the over 18 box. Oddly only series three is available. That will cost 99 pence an episode, but the last two episodes are bizarrely discounted to 2 pence from 79p, although that becomes 99p when it comes to paying. The trial episode was preceded by a one-minute pre-roll rather redundantly promoting the service itself.
All four series of this drama can be seen for free as part of a standard Netflix or LoveFilm subscription. They are also available on iTunes for £1.89 an episode. Or you could buy a DVD box set of all 32 episodes for around £16.00 on Amazon.
The online payment system worked smoothly, although whether processing individual credit card payments for sums less than a pound is cost-effective seems questionable.
ITV has made much of its plans for micropayments, but paying individually at a pound an episode is really just payment.
The new ITV Player is a step in the right direction but the current pricing is unattractive to all but the most ardent fans of a programme. Most people do not seem to attribute a significant value to an individual episode of a show. Although there is a business in box set physical products, this appears to be a different value proposition.
Assuming the average person in the United Kingdom watches four to five hours a week of ITV programming, and ITV receives around £1.5 billion a year in net advertising revenue, it is difficult to see the online revenue streams making a significant contribution to the bottom line in the near term.
Yet is it conceivable that a few million households might pay four or five pounds a week to watch ITV programming without adverts? Possibly.