Google has launched its Nexus brand of phone, tablet and media player. The Nexus Q claims to be the first social media player, but the surprise newcomer is something of an oddball at the streaming media party. Currently available for pre-order at $299 in the United States, where it is designed and assembled, it costs three times as much as the Apple TV and seems to do a lot less. Of more interest is the Nexus 7 tablet at $199 and the Vizio Co-Star Google TV box, offering a compelling consumer proposition at a competitive $99.
The Google Nexus Q is an oddball concept. The 116mm orb is designed to attach to a screen and speakers to stream media from the internet. That's all, although it is clearly capable of more, much more. It works with an Android phone or tablet in conjunction with YouTube or the Google Play portal — and nothing else, yet. Multiple devices can be controlled to provide a whole home entertainment solution, at a price.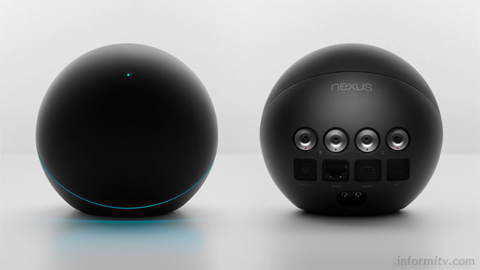 The Google Nexus Q runs Android 4.0, otherwise known as Ice Cream Sandwich, has a relatively powerful dual-core ARM-based processor, comes with 1 gigabyte of RAM and 16 gigabytes of Flash memory. It incorporates a power supply and a modest audio amplifier and comes with an HDMI digital output, optical digital audio and speaker outputs. It has built-in WiFi and Bluetooth, as well as Ethernet connectivity.
Unlike other square media streamers that are designed to be discreet black boxes, the Nexus Q is intended to be seen and touched. The dome top rotates to control the volume and has a ring of LEDs that change colour in time to music.
The Google Nexus range clearly represents an attempt to take on the Apple ecosystem and in particular the Apple AirPlay feature. However, Google has a long way to go to catch up on the lead established by Apple, five years after the launch of the iPhone. While Google may have YouTube, Apple has iTunes and a huge installed base of users. That said, Android devices are being activated at a rate of over a million a day, with around 400 million deployed.
Launched at the Google IO 2012 developer conference, the real significance of the Nexus Q may be in offering an Android alternative to the Apple AirPlay feature, which provides an easy way of presenting media from iOS devices to the Apple TV, and soon from Mac computers too.
Early reviews of the Google Nexus Q suggest some rough edges around its limited feature set, implying that physical product design has taken priority over software quality assurance. Although this can no doubt be fixed by software updates, most consumers do not want and will not tolerate beta products for entertainment. This, it seems, is a product that Google has made for itself, and it shows. However, it could provide a hardware platform on which others may innovate.
Perhaps of more interest is the Google Nexus 7 tablet, with a seven-inch screen and a 1280×800 pixel display, running on Android 4.1 and priced at $199. It offers a convenient form factor, at just over half the weight of an iPad, at half the cost.
Meanwhile, Vizio has unveiled its Co-Star media streamer, first shown at CES in January. It is a full Google TV product, at the competitive price point of $99, which is half that of the recently revealed Google TV box from Sony.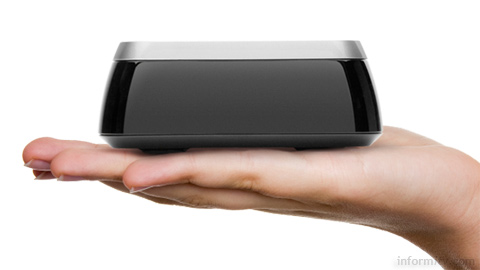 Billed as the ultimate upgrade for any high-definition television, the Co-Star transforms an HDMI display into a smart television, offering the full Google TV experience.
Like the poorly received Logitech Revue product, originally based on the first generation of Google TV, it features an HDMI input and output, allowing the output of an external source to be looped through. As informitv has previously observed, this is critical if it is to work in an existing pay-television environment.
On specification, the Vizio Co-Star compares favourably with the Apple TV and Roku 2 XS boxes, not least because it integrates with the existing television experience, while providing a full web browser and DLNA access to media on other compatible network devices.
It comes with a traditionally sized two-sided remote control, incorporating a touch pad and a miniature keyboard. It also comes with support for the OnLive cloud gaming service, which streams output from hosted servers.
"We combined the powerful features of Google TV with an intuitive and easy to use interface, giving users the power to enjoy an entire world of entertainment," said Matt McRae, the chief technology officer of Vizio.
The Vizio Co-Star, at this price point, is an attractive mass-market proposition, which only serves to question the value of the Google Nexus Q as a niche product.
While the Google TV strategy still appears confused, the company is clearly not content to let Apple steal the show with its products, and by providing the Android platform to third-party manufacturers Google can achieve significant scale. The problem remains that Google still lacks credibility as a media player and its new Play portal has yet to prove itself.