Live viewing accounts for more than a fifth of all accesses to the BBC iPlayer in the United Kingdom. A new feature will allow users to restart the live programme they are watching or scroll back to watch programmes from the previous two hours. Currently available on the web, it will be rolled out to BBC iPlayer on mobiles, tablets and connected televisions later in the year. It is made possible by a move to a new delivery system that will also be used to offer instant replays during the Olympics.
Rather than using a streaming protocol such as RTMP as it has done in the past, the BBC is embracing segmented file-based delivery system using HTTP standards. This has a number of advantages, including allowing the use of commodity web servers rather than dedicated video servers, allowing services to be scaled to larger audiences at lower cost.
In addition, because it is possible to store the segments or chunks as they are delivered, they can also be made immediately available for subsequent viewing. So, users can scroll back in time to review a programme, rather like with a digital video recorder.
Even better, where rights permit, there is a prominent option to "Restart the current programme". This is linked to programme schedule data, taking the user right to the start of the programme with a single click.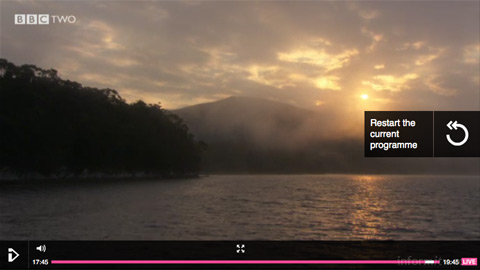 The same technology will be used to drive new experiences planned for the Olympics with a new live interactive video player. This will include the option to rewind live coverage, with chapter markers enabling easy navigation to key moments.
The BBC will be streaming every Olympic event, sport and venue live and on-demand, with up to 24 live high-definition streams and 2,500 hours of coverage.
All of which could have been the perfect launch vehicle for the YouView platform. Unfortunately, Mark Thompson, the director general of the BBC, has conceded that while there were "hundreds" of boxes on trial, "we will not have a large number of boxes out before the Olympics". He told a parliamentary select committee: "IPTV turns out to be quite difficult to do".
So it seems YouView, which he described in December 2010 as "a big revolution in broadcasting" and envisaged being used for the Olympic coverage, will not be launched on his watch.
Meanwhile, Jana Bennett, who moved from being director of vision at the BBC to become president of worldwide networks and the Global iPlayer at BBC Worldwide, is to leave in the autumn. Dan Heaf will take on her iPlayer responsibilities as chief digital officer for the commercial division of the BBC.
Launched as a "pilot" in 11 countries in Western Europe at the end of July 2011 and subsequently extended to Australia and Canada, Global iPlayer has yet to launch in the United States. It is reported that cable companies have put pressure on BBC Worldwide not to launch the service in America.