ITV, the biggest commercial broadcaster in the United Kingdom, has announced a nationally exclusive partnership with Shazam to use its audio recognition technology to create interactive adverts. It follows experiments in the United States, including advertisements during coverage of the NFL Super Bowl. There is increasing interest in the opportunities presented by so-called second-screen applications to augment traditional television channels.
ITV will have exclusive rights to offer advertisers the opportunity to have traditional television spots enabled for Shazam. Viewers who have Shazam installed on their smartphones — 10 million of them in the United Kingdom, we are told — will be able to use the app to interact with enabled adverts to enter competitions, receive additional information or download media.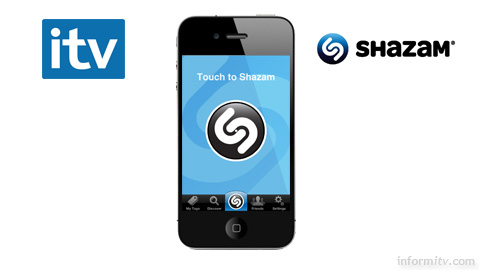 "Shazam's audio-recognition technology is at the forefront of the second screen movement which is transforming the way consumers interact with content including advertising," said Simon Daglish, the group commercial sales director at ITV. "ITV is able to offer customers a real first for UK media and allow brands to innovate their spot campaigns and connect directly with audiences on a large scale."
Andrew Fisher, the chief executive of Shazam, said: "This will empower leading brands to connect with our millions of fans who will now be able to experience an extended engagement in one of the most convenient and innovative ways possible."
It is something of a coup for Shazam, a London-based company with offices in New York, Palo Alto and Seoul. It was founded in 2000 and launched in 2002 as a phone-based music recognition service. Now available as an app on all major smartphone platforms, it claims to be used by 200 million people around the world, generating 6 million uses a day.
Shazam has now been recognised with a Queen's Award for Enterprise in Innovation.
During the Super Bowl coverage on NBC in America, Shazam was used to provide audience interaction during the game, the halftime show and for over half the advertisements, including a campaign for Toyota with the opportunity to win a car.
This was closely followed by CBS coverage of the Grammy Awards for music and for American Idol on Fox.
For ITV, there is the potential to promote such forms of interaction during popular programmes like talent shows, in the hope that it can carry across into behaviour during commercial breaks. For advertisers, it promises to enable direct interaction with individual viewers on a personal device using an application they may already have installed, providing they can be persuaded to engage in the first place.
The deal with ITV follows investment from BSkyB in Zeebox, which aims to offer similar features across a wide range of channels, not just those for which Sky sells advertising airtime.