Netflix has officially launched in the United Kingdom and Ireland. The subscription service, streaming movies and television episodes, is now available online and across a range of devices, including Apple TV and Google TV products. Following a one-month free trial, subscribers can get unlimited instant access an deep catalogue of programming for £5.99 or €6.99 a month.
"We are starting 2012 in the best possible way: by giving consumers in the UK and Ireland an amazing entertainment experience," said Reed Hastings, the co-founder and chief executive officer of Netflix.
Neil Hunt, the chief product officer at Netflix, said he was proud to bring Netflix to the country where he grew up, after spending most of his career in California. "We have honed and refined the apps based upon our experience in the Canadian, US, and Latin American markets," he said.
We were able to test an informitv account in London on an Apple TV, where Netflix appeared at the top of the internet menu, although we had to reboot the box to get it to work, after which it performed flawlessly.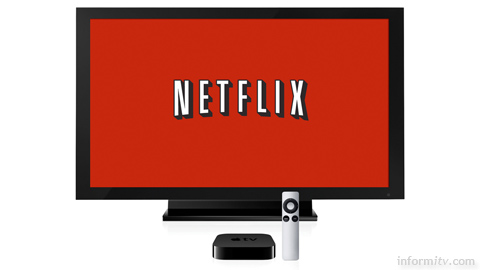 This immediate presence on a wide range of installed devices could allow Netflix to grow its customer base rapidly.
The long-anticipated launch of Netflix in the United Kingdom and Ireland will put pressure on the competing established service from LoveFilm.
With more than 20 million streaming subscribers in the United States, Canada, Latin America and the Caribbean, the Netflix brand is already extremely popular, although the company managed to upset many customers when it split the streaming and disc rental services and raised prices. Netflix also has the considerable advantage of being pre-integrated on a vast range of over 700 devices, including smart televisions, Blu-ray players, games consoles, digital media adapters, personal computers, tablets and smart phones.
LoveFilm is well established and claims to have almost 2 million subscribers in the United Kingdom, Germany, Sweden, Denmark and Norway. The company, which is now wholly owned by Amazon, has been signing more distribution deals in anticipation of the Netflix launch, including extra titles from the BBC and ITV. Lovefilm has also responded by offering an introductory subscription for online only viewing at £4.99 a month.
Netflix is even more of a challenge to Blinkbox, in which Tesco acquired a 80% stake in April 2011. Blinkbox offers movies on a rental basis, at around £3.49 for more recent releases, with some titles free to view, supported by advertising.
Netflix also faces competition from established pay-television providers Sky and Virgin Media, and free online video services from the major broadcasters, including the BBC iPlayer.
In October, the chief executive of Netflix warned that the costs of the launch in the United Kingdom and Ireland would push the company into a loss in the first quarter of 2012 because domestic profits would not cover international investments.
Whether the streaming movie market will support multiple competing providers for long is another matter. Another question is whether established big media companies can afford to allow companies like Netflix to emerge as powerful aggregators. Although Netflix has a massive market capitalisation, it is still not too big to be bought.