BBC News has developed an application for internet-connected televisions to complement its 24-hour television news channel and web site. Initially available free of charge on Samsung Smart TVs through their apps store, it will later become accessible on a range of connected devices and displays, with an international version to include advertising. The television app accompanies news applications previously made available for smartphones and tablets. It will soon be joined by a global version of the iPlayer, initially available on the iPad in Europe for a monthly fee.
"Internet-connected TV is developing as a medium and presents an exciting and engaging complement to our existing TV services," explained Phil Fearnley, the general manager for news and knowledge in the BBC future media department. "Looking forward, we are particularly interested in creating seamless, personalised, and location-aware experiences of BBC News across all connected devices — mobiles, tablets, computers and TVs."
"Although the connected TV market is still in its infancy and the medium is not yet a mainstream proposition, our plan is to build on this initial launch with Samsung and we're looking to work with other manufacturers to bring our product to their platforms as quickly as possible — technically, as it's built in HTML, it can be repurposed simply for a wide range of different operating systems and devices."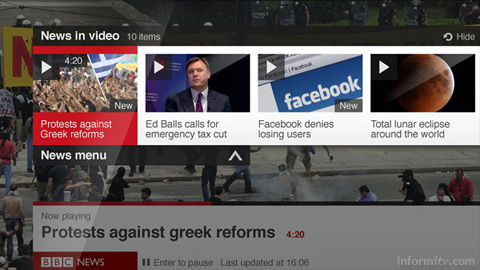 This is the latest advance in interactive television services from the BBC, which started with the launch of Ceefax in 1973, developed with the BBC Text service in 1999, evolving into the BBC Red Button offering, which now has 12 million users a week. The BBC News web site meanwhile attracts tens of millions of users from around the world.
The capabilities of the latest internet-connected television sets far exceed those of previous interactive television services, using web technologies to deliver rich multimedia presentation that can be navigated using a remote control.
The BBC News app combines text and video in a way that looks more like the web than interactive television.
Ralph Rivera, the director of future media at the BBC, referred to television as the "fourth screen" — the others apparently being the personal computer, mobile phone and tablet. "Coupled with the web site, the BBC News product is already present globally across three screens," he said. "And today, we announced its arrival on a fourth — the TV."
The BBC is clearly not waiting on YouView to deliver on the promise of internet television, or doing the proposed platform in which it is a lead partner any particular favours as it develops the next generation of interactive television applications.
As an internet delivered application, the BBC News "product" will also be made available internationally, and will carry advertising outside the United Kingdom, as is the case on the BBC web site.
The BBC News application available on Apple iOS devices and Android smartphones has been downloaded six million times globally.
Samsung has sold two million Smart TVs worldwide in the first three months since their launch in early April 2011, selling at an average rate of 22,000 a day, some 700,000 of them in Europe.
The BBC cited a forecast that there will be almost 36 million televisions with built-in internet capability installed in homes in the United Kingdom by the end of 2016. The number that will actually be connected may be somewhat lower, dependent partly on the availability of compelling applications.
Global iPlayer
Jana Bennett, in her role as president of worldwide networks and Global iPlayer at the BBC, has meanwhile outlined plans for the international release of the BBC iPlayer, saying that it will be "a different proposition" from the domestic version, provide collections of classic and contemporary British shows across a variety of genres. Initially available as an app on the Apple iPad on a monthly subscription, it will be rolled out across multiple territories, with Western European countries in the first wave.
Speaking at the Banff World Media Festival in Canada, she said: "Whilst it won't happen overnight, our ambition is to present a timeless mix of classic and contemporary UK creativity, showcasing the best of British content from the 1950s to the present day. Vintage British creativity but fresh and for the future."
In other words, do not expect the full schedule of shows that are available in the United Kingdom.