The chief executive of Comcast, which is now the majority owner of NBCUniversal, showed off the capabilities of its new Xfinity TV experience, codenamed Xcalibur, at The Cable Show in Chicago. He also showed the capacity of a one gigabit per second broadband connection, by apparently downloading all 23 episodes of the last season of 30 Rock in just under 100 seconds. Such speeds, long advocated by informitv, change the way we need to think about video delivery.
Brian Roberts demonstrated the next generation Xfinity TV experience, known as Xcalibur, currently on trial in Augusta, Georgia. He described it as: "The beginning of making it easier and more fun for the consumer" and "a whole different feel".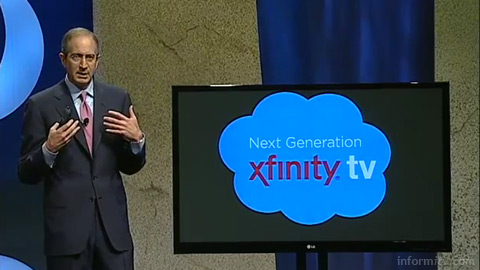 Very slick it looked too, with rapid responses and an elegance not normally seen on cable boxes. Much of the intelligence behind the interface runs in the network cloud, rather than the set-top box. It was noted that it had much in common with the way an application might work on a tablet, although in this case designed for operation with a remote control.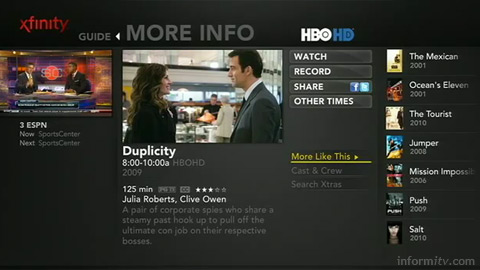 The remote uses a radiofrequency wireless connection, so the box can go anywhere, out of line of sight. The user interface supports alphabetic entry using a numeric keypad, so for instance the number sequence 426 corresponds to HBO. The system also remembers the last nine viewing options, effectively creating shortcuts for frequently viewed channels. An area labeled MyTV provides recommendations based on personal preferences, including "friend trends" from Facebook, although it was unclear how these applied to individual viewers in a shared viewing environment.
At the show, Comcast also demonstrated integration with Skype that will enable video calling through the television, as well as on personal computers, smartphones and tablets.
Equally impressive was a demonstration of the download speeds we might expect in the future. For many years, informitv has been saying we need to be thinking about gigabit per second connections. Now it seems Comcast is thinking that way too.
The demonstration involved bonding 32 channels in a hybrid fibre coaxial cable network to deliver over a billion bits per second. Although a number of fibre-to-the-premises networks can already deliver 1 Gbps, the Comcast demo marks a step change in capacity for most cable networks.
Comcast currently delivers broadband at up to 100Mbps, which the company proudly first demonstrated at the same event in 2007.
The Comcast chief executive introduced a "live" demonstration, recorded earlier, which appeared to show an entire season of a show downloaded in 99 seconds and presented a speed test that exceeded a billion bits per second.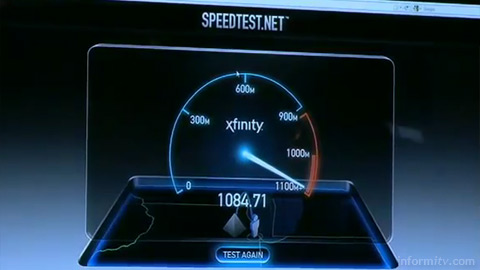 At this rate, the capabilities of a spinning disk drive, its hardware interface and communication protocols are more likely to be a limitation than the underlying network.
However, informitv notes that such transfer rates imply a more significant move to fast downloading of files, faster than real time, rather than relatively complicated streaming or adaptive bitrate streaming, negating any need for quality of service guarantees, relying instead on overprovisioning bandwidth.
In other words, if it is possible to download a half-hour programme in around five seconds, best efforts delivery is more than good enough. In which case, existing approaches to quality of service on the one hand, or adaptive bitrate streaming on the other, are likely to become irrelevant.
In practice, available capacity is likely to be shared across a neighbourhood, so subscribers may not necessarily always experience such rates. Then again, if they can download a show in a matter of seconds, the peak capacity may only be required for relatively short periods.
After many years of slow progress, cable companies like Comcast are finally showing progressive interfaces and more ambitious network capabilities, driven by competition from over-the-top services like Hulu and Netflix. It is often suggested that such services will ultimately undermine cable operators, butit should not be forgotten that in the end they still generally control the connection to the home.