YouTube has added thousands of new mainstream movies to its site for rental in the United States. They include relatively recent releases like The Social Network and The King's Speech. That YouTube is able to offer this at all is indicative of an improving relationship with major studios, at least those that are participating. Hollywood needs to embrace digital distribution if it is to compensate for dramatically declining DVD revenues, which are not being balanced by growth in Blu-ray disc sales. The current YouTube offering is competent but not compelling compared to competing online video services like Netflix.
YouTube has done deals with NBC Universal, Sony Pictures and Warner Brothers. In addition to hundreds of free movies already available on YouTube, largely from independent producers, most 24-hour rentals are $2.99, with more recent releases at $3.99, comparable to prices on iTunes and Amazon. Transactions on YouTube, which is owned by Google, are managed by logging in to a Google Account linked to Google Checkout.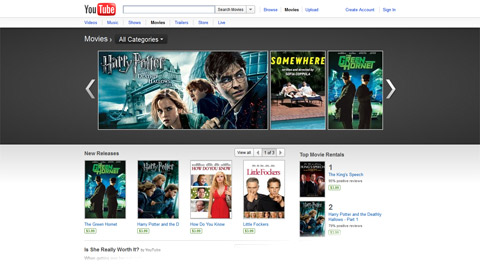 The YouTube movie service currently seems to be limited to the web browser using Flash, not necessarily through other devices and displays, such as many network-connected televisions. That could change if and when Google TV becomes more established. Those with certain Android devices, currently only the Motorola Xoom from Verizon, can apparently download a movie for offline viewing, which must commence within 30 days and then be viewed within 24 hours.
New features include reviews from critics, ratings from Rotten Tomatoes, and video extras including clips created by the users, available for free viewing.
Many movies will be available at the same time they come out on DVD. While online movie sales are growing, they have yet to make up for the decline in DVD sales. The wholesale value of DVD sales in the United States fell by 44% in 2010, from nearly $8 billion to just under $4.5 billion, SNL Kagan reported. Blu-ray sales meanwhile grew 53% in the same period to $2.3 billion, according to the Digital Entertainment Group.
With a catalogue of around 6,000 titles in total, YouTube is attempting to compete with the likes of Netflix, which has 20,000 titles available online and is available on over 200 different types of device and display for a $7.99 monthly subscription.
On that basis, YouTube will struggle to compete with the market lead established by Netflix, which has more than 20 million members in the United States and Canada.
Netflix has been investing heavily to acquire the rights to movies and television shows, recently signing a syndication deal for the acclaimed television series Mad Men and the right to debut the forthcoming adaptation of the BBC political drama House of Cards.
YouTube is currently the home of casual video and is not presently a place where people expect to pay to watch programming. Although currently limited to the United States market, YouTube could have an advantage as a global player, assuming that it can negotiate the relevant rights with studios.
The revamp of the YouTube movie site coincides with the closure of Google Video, its previous foray into video services, launched in 2005, a year before it bought YouTube.
Salar Kamangar, the head of YouTube, notes that the site now deals with 35 hours of video uploaded every minute, delivering more than 2 billion views per day. "But you're spending just 15 minutes a day on YouTube, and spending five hours a day watching TV. As the lines between online and offline continue to blur, we think that's going to change."
As well as expanding its movie offering, YouTube is supporting more than 20,000 partners producing programming for the platform. Building on the success of its NextUp and Partner Grants initiatives, it is promising resources to recognized producers.
Of course, if Google were really serious about getting into movies, it could simply buy Netflix. With a market capitalization of nearly $13 billion, less than a tenth that of Google, it would be a considerably more expensive proposition than its original acquisition of YouTube.