Sezmi has launched a service blending free and pay-television broadcast channels with video on demand delivered over broadband. Initially available in the Los Angeles area, assuming it proves successful, the venture capital backed start-up company plans to expand nationally across America. Sezmi combines terrestrial transmissions with online video but could struggle to compete with existing pay-television providers.
Buno Pati, the co-founder and chief executive of Sezmi, says consumers are looking for a better way to view their favourite shows, movies and web videos, at an affordable price. "Sezmi is making that a reality with the first self-installed, all-in-one home television service that delivers leading cable networks live and on-demand with the easiest access to broadcast, on-demand and online entertainment."
Phil Wiser, co-founder and president of the company, added "Our ability to automatically organize and display content for each individual in the household is a real game changer."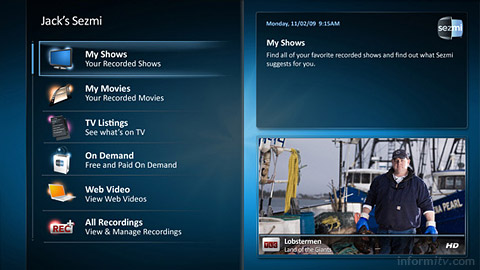 The Sezmi box is a high-definition digital video recorder with a terabyte hard drive, together with a carefully disguised antenna that receives available broadcast channels, plus a selection of encrypted premium channels transmitted over the air in unused bandwidth leased from local broadcast partners.
The package is sold retail for $299.95, through chains like Best Buy, with an entry-level subscription of $4.95 a month or a premium package at $19.95 a month, on top of the cost of any broadband service.
The basic service offers 50 local channels, all of which are available free over the air. The premium package includes a selection of cable television channels. Movies are available on demand over broadband, as well as online video from the likes of YouTube.
Our colleagues at informitv partners The Diffusion Group are doubtful that these two tiers will necessarily appeal to viewers that have so far resisted pay-television on the one hand or those that already have a wider selection of pay-television channels on the other.
The service currently lacks premium networks such as ESPN and HBO, although it has some like Discovery and Comedy Central.
Pay-television operators already provide subscribers with the necessary hardware, including a digital video recorder, and a wider range of programming for only $25 a month.
While Sezmi will offer video on demand delivered over broadband, pay-television operators are now equally expanding their VOD offerings and initiatives such as TV Everywhere promise to push that programming to authorised subscribers on any broadband connected computer.
"Sezmi brings nothing new to the table," argues Michael Greeson, the founding partner of The Diffusion Group, despite being an enthusiast for over-the-top services. "Further, by setting itself directly against incumbent PayTV operators it must meet a much high bar in regards to consumer expectations."