Google is putting mobile at the heart of its strategy."The new rule is mobile first," Dr Eric Schmidt told delegates of the Mobile World Congress in Barcelona. The chairman and chief executive of Google forecast in his first keynote address at the mobile convention that in three years, if not sooner, sales of smart phones will pass global sales of personal computers. He said: "Now our programmers at Google are doing work on mobile first".
The former chief technology officer of Sun Micrososystems, subsequently chief executive of Novell prior to his appointment to Google, pointed to the convergence of three technology components that would define the future: computing, connectivity and cloud processing and storage. "The phone is the meeting point," he said. "A device that is not connected is not interesting."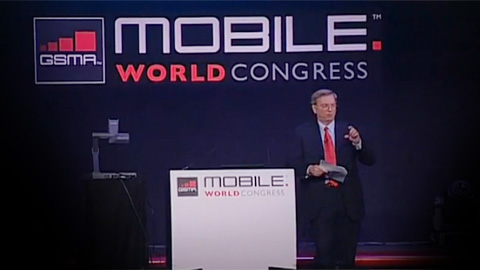 "The confluence of these three factors means that something very fundamental is happening. The phone is no longer a phone, it's your alter ego, it's fundamental to everything that you do. It's an extension of everything that we are."
Google also showed an Android mobile phone running the full version of Flash, which is something that Apple is unwilling to allow on its iPhone, although the demonstration of a Flash video on a web site refused to work, which was blamed on the saturated mobile network at the annual industry convention.
While there was admiration for the other technical demonstrations, which included voice and image recognition, there was also evident anxiety about the effect of Google encroaching into the mobile business.
The chief executive of Google was asked whether he wanted to turn the network operator into a dumb data pipe. "We depend on the successful business of the operators," he said. "I disagree that we are trying to turn the operators into a dumb pipe." Despite the recently announced trial to test high-speed fibre-optic networks, he said: "We are not going to be investing in broad scale infrastructure".
Asked whether users would feel that they were a customer of Google or a customer of the network operator he responded that "The customer will be a customer of both". Asked directly why operators should not fear Google stealing talk minutes from mobile operators with voice applications, he replied: "It's not our objective to steal your talk minutes." However, he added that "These phones are so powerful that voice is really an afterthought".
There was also a question about what Google would do to protect the privacy of users, which was particularly pertinent in view of the launch of Buzz, a social network launched on the basis of the Gmail contacts of users without their opt-in permission. This shocked many users and although the company responded by rapidly changing the terms it damaged the reputation of Google which has the stated aim to "Do no evil".
Meanwhile Microsoft is unwilling to cede the mobile market with its seventh attempt at an operating system for such devices. Window Phone Series 7 features a new look but faces competition from free alternatives, such as the Google Android platform. Nokia, having bought out its partners in the Symbian software, has teamed up with Intel to offer their open source platform, MeeGo, which is already being called MeeToo.
While voice and data services have been lucrative for operators, the growth of smart phones is placing pressure on their mobile broadband networks. Their control over walled garden services has also collapsed.
A Nokia Siemens Networks study shows that in the United Kingdom the number of mobile internet users in the United Kingdom accessing a carrier portal site fell from 57% in 2007 to 22% the following year, while those using Google went from 44% to 82%. Nokia also benefited, rising from 24% to 56%, the same number that accessed the BBC on their mobile.
Operators are coming under pressure to relax their control over video usage. Sling Media announced that it had approval from Apple and AT&T to allow its SlingPlayer application stream live video over a 3G mobile network, and Sky Mobile TV is now also available on the move.
With next generation networks already being planned, there is the prospect of mobile video becoming as popular and as practical as online video, although operators will still need to see a return on investment in infrastructure if they are to support the mobile broadband future that Google envisages.