Following its landmark deal with Channel Four, YouTube has added full-length programmes from channel Five in the United Kingdom. It significantly strengthens the position of the Google owned video platform in an increasingly competitive environment. If other broadcasters follow suit it could be very difficult for third-party aggregators to compete.
Under the deal, programmes from the Demand Five catch-up service will be available on YouTube shortly after transmission. That includes not only commissioned programmes, but some acquired serials, such as Neighbours and Home and Away, as well as some 250 hours of archive shows.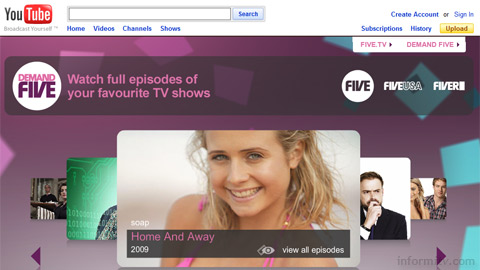 The deal does not currently extend to acquisitions from American studios, but Five is understood to be keen to negotiate this in the future.
While it makes its programming available for legitimate online distribution, Five will use the YouTube content identification system to detect copyright clips that have been uploaded and either block them or receive revenue from associated advertising.
"Legitimate internet video operators are far from the 'parasites' that some have sought to portray them as in the past," said Dawn Airey, the chief executive of Five, in a reference to the outgoing chairman of ITV who famously referred to them as such. "On the contrary, they can be an important partner in helping modern day broadcasters reach new audiences and continue to fund high quality original content."
The deal is not exclusive, and Five will continue to offer programming on its own web site and is understood to be in ongoing talks with other online video services, including Hulu and SeeSaw. The deal with the largest online video service in the world undoubtedly changes the nature of those negotiations.
YouTube has launched its first offline advertising campaign to promote the new shows section on the site in the United Kingdom.
It has been reported that YouTube is also holding talks with studios and networks in the United States about the possibility of offering full-length programming without advertising on a paid basis.
Although YouTube is currently seen as an online service, as the largest online video platform in the world it will increasingly be seen on the screens of connected televisions. YouTube has already shown the scale of its ambition in starting to offer full high-definition video online.