YouTube has created a new shows section for users in the United Kingdom, featuring full-length programming and clips from partners, mainly based around its recent deal with Channel 4. It follows the creation of the shows section for users in the United States back in April. Google has also announced that it will use automatic speech recognition to support the generation and timing of caption subtitles on YouTube. The availability of captions not only provides accessibility but improves discoverability through search.
Patrick Walker, Director of Video Partnerships at YouTube, said: "The shows section of the site will make it easier for users to discover videos from the biggest names in British broadcasting, and help our content partners reach new audiences and generate new revenues."
The YouTube shows site includes around 4,000 full length programmes from more than 60 partners at launch. It includes the first set of programmes under the recently announced deal with Channel 4, with popular shows such as Peep Show, Derren Brown and Hollyoaks, as well as long runs of library shows like Drop the Dead Donkey and Whose Line is it Anyway?.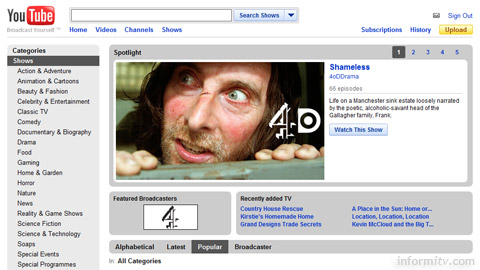 These are also accessible through a 4oD branded section of the site, as well as within genre subsections, such as 4oDComedy, or under a programme title section. The full range of Channel 4 programming will become available in early 2010.
The YouTube site indicates how many people have actually watched each show, which is illuminating. Shortly after launch, individual episodes had been accessed by anything from a handful to a few hundred users, while the entire 4oD offering had reached a few thousand.
Given that YouTube is the most popular online video site by far, serving over a billion video streams a day worldwide, it will be interesting to observe the cumulative viewing figures for individual full-length episodes over time, compared to those for excerpt clips.
Also aggregated in the shows site are a small selection of programmes from BBC Worldwide and a rather random range of programmes from other providers, as well as authorised clips from some popular programmes.
The presentation of the shows site is based on simple illustrated lists, in contrast to the rather more designed YouTube channel sites like those of 4oD, or the richer environments of the Channel 4oD site itself.
Such approaches are fine if users are looking for a particular programme, but offer little by way of promotion or presentation for those that may wish to discover new titles from the catalogue.
YouTube has established the shows site in anticipation of services such as SeeSaw and the announced international expansion of Hulu, in competition with existing players such as the BBC, MSN and Blinkbox.
Captions
Google has separately announced that it is extending its existing support for caption subtitles, using automatic speech recognition to provide automatic captions or auto-caps.
The speech recognition is not perfect, but will assist the accessibility and discoverability of videos on YouTube. Alternatively, where a transcript is available, an auto-timing option is available to align it with video.
Broadcast programming, such as that provided by Channel 4, generally has caption subtitles provided, but the automatic speech recognition will be a benefit for many videos, particularly in terms of search engine optimisation.
Initially, the auto-caps features will be provided for videos from some of the leading American universities, and most Google and YouTube channels, before being rolled out more broadly.