The BBC has showed a demonstration of what its Canvas project could deliver as it awaits a decision from its Trust on whether it can proceed with the proposed joint venture platform. Described as a "game changer" by the BBC, it faces open opposition from pay-television operators. The BBC is meanwhile pushing ahead with its award-winning iPlayer, with a new version for the Nintendo Wii games console. The availability of the service on over 20 different devices is either a sign of a fragmented market or healthy competition, depending on your perspective.
The mock up showed how the last Olympics might have looked on a Canvas device, complete with integrated instant messaging and social networking. It is very Flash, in every sense, and demonstrably better than the interactive television experience that the BBC is able to deliver today on existing broadcast platforms.
However, what was shown was a very BBC centric experience, which could equally have been an interactive application, avoiding the more complex issues of how the user interface would operate at the platform level in terms of the presentation and navigation of other channels, programmes and applications.
Erik Huggers, who is responsible for future media and technology at the BBC, referred to the proposed Canvas platform as a "game changer". He warned a FutureMedia conference in London: "Unless we succeed in getting Canvas through, that whole market will be fragmented."
The BBC has been obliged to drop plans to restrict the platform to public service broadcasters, but pay television operators Sky and Virgin Media remain unconvinced.
"The new proposal does not make Canvas an attractive proposition for Sky," said Griff Parry, who heads their on-demand services. "If you scratch the surface, the proposals are underwhelming. It doesn't make any difference in practice." Asked whether there was any need for Canvas he said there will be other platforms. "There's no evidence of market failure here. There are a broad range of players who want to drive internet TV services."
Virgin Media TV's commercial director David Cuff agreed that Canvas could be a game changer. "I'm worried it's my game," he said, adding that the market is already dealing with multiple standards. "Canvas is a bit scary," he said.
The rationale for Canvas appears to be that it will reduce the cost of developing services for different devices. Nevertheless, the BBC unveiled, in a joint press release with Nintendo, a new version of its iPlayer for the Wii games console.
"We're pleased that we've been able to work with Nintendo to evolve BBC iPlayer on the Wii, providing a faster, high quality and improved viewing experience," said Erik Huggers in the announcement. "It's important that we offer audiences more ways to access the huge range of BBC content available, and this improved version of BBC iPlayer underlines our commitment to reaching new audiences by making BBC iPlayer available on as many platforms as possible."
There are nearly six million Wii consoles in the United Kingdom, according to market research company GfK, although not all of these will be broadband connected.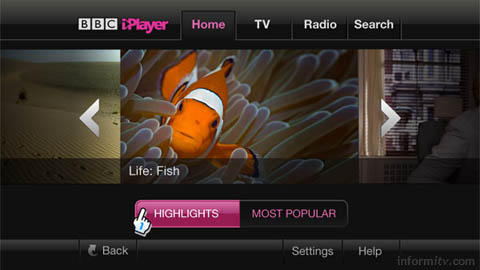 Replacing a browser based version of the BBC iPlayer on the games console, the new application is based on Flash, using the Nintendo Video on Demand Framework.
Recognition
The BBC iPlayer itself received recognition from the Royal Television Society in a special award for innovation for showing "great vision in determining how the media might develop in the future and how we all will relate to the changing aspects of communication".
The chair of the judging panel, Jeff Henry, who as head of consumer at ITV was responsible for the online video initiative of the commercial network, beating the BBC to market, was enthusiastic in his praise. He compared the iPlayer to other great British innovations, including the steam engine, jet engine and radio waves, which were apparently a British innovation, presumably a reference to the electromagnetic theory advanced by Maxwell.
The BBC iPlayer has been an undoubted success and is now available on more than 20 different platforms, in addition to personal computers. Windows computers account for 55% of usage, while the Mac makes up 7%. The PS3 and mobile devices respectively account for 6% each, while Virgin Media cable television represents 26% of usage. Together these platforms deliver over 5 million iPlayer users per week.
A new release of the BBC iPlayer due to launch in 2010 will include social networking features, allowing users to see what their friends are watching, and a recommendations system based on previous viewing.
With a version of the iPlayer already coming to Freesat, the issue remains whether the market really needs another platform in the form of Canvas. According to the best estimates of Screen Digest, such a platform could reach 3.5 million homes in Britain by 2014, which is about the same number with cable today.
That said, in the last year over 13 million digital terrestrial television receivers were sold in the United Kingdom, three quarters of them integrated in displays, the rest being set-top boxes. Since its launch in 2002, over 46 million Freeview receivers have been sold and nearly 10 million homes rely on digital terrestrial television for their main display.
On the one hand that is an enormous installed base of legacy devices that will be incompatible with future broadband and high-definition services. On the one other hand it represents an enormous opportunity for a new platform like Canvas.
The question is whether the BBC should form a new joint venture with commercial partners to develop such a platform. That is a question on which the BBC Trust will soon pronounce.