Vudu, the online video service, is now providing movies in full high-definition 1080p format and claims to offer the highest quality available from any internet, broadcast, cable or satellite video-on-demand service. The results have been described as "insanely sharp".
The HDX format is effectively high-definition video in progressively scanned rather than interlaced format, at 24 frames per second, more faithfully reproducing movies. Material is encoded at variable bit rate, averaging at around 9Mbps but peaking at around 20Mbps. That is a higher bit rate than a DVD but lower than many Blu-ray high-definition discs.
Vudu currently has only 65 movies available in the new HDX format but will also offer every newly released high-definition title this way, giving a choice between instant start streaming and a higher quality download version, for the same price. The higher quality versions take several hours to download.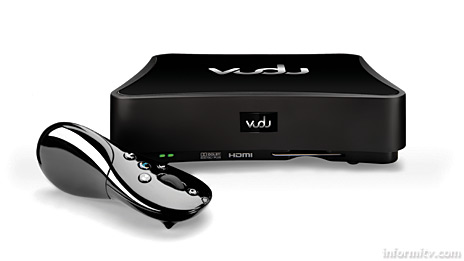 "HDX truly raises the bar on picture quality for HD movies delivered on demand, over the air, satellite or Internet and across the entire video landscape," said Mark Jung, the chief executive of Vudu. "Accelerating consumer adoption of large screen HDTVs has fuelled strong demand for the kind of viewing experience and picture quality only HDX can deliver."
Vudu talks about its TruFilm technology which has been designed to optimise the encoding, transmission and display of HDX movies on high-definition televisions and home theatre systems. It uses psychovisual processing to reduce artifacts in dark areas of the picture, aims to preserve film grain and is optimised for display on modern flat screen televisions.
Vudu claims that it is offering twice the resolution of other high-definition video available over the internet. That may be true if the comparison is with 720p material.
It should be noted that 1920×1080 pixels is around 2 megapixels per frame and displayed displayed 24 times a second is just under 50 million pixels per second. This actually represents fewer pixels per second than an interlaced frame of the same resolution displayed in two fields 25 or 30 times a second.
However, for movie material shot at 24 frames per second, 1080p24 offers improved spatial resolution over temporal resolution, allowing it to be shown as originally intended.
New York Times technology columnist David Pogue described the result as "insanely sharp". However, he adds that the most significant leap was from standard definition to high-definition, noting "The additional quality leap to HDX is not nearly as remarkable".
He says, rightly, that HDX is "really intended to satisfy the quality chaser, the purist" who paid a premium for displays capable of showing 1080p pictures.
He ends by calling on Hollywood to get its own act together: "Once it starts offering more movies, sooner, with less obnoxious rental terms, then the concept of downloadable internet movies won't be a bad joke."