Peter Dawes, one of the pioneers of commercial internet access in Britain, is launching a low-cost product that combines a Freeview digital video recorder with a computer and internet applications. The Babel TV is presented as a black box device, rather than a personal computer or media centre. It includes remote management and the option of secure backup of personal files.
Designed to be simple to use, it combines the benefits of a digital video recorder with those of a personal computer in a single product, competitively priced at £295.
The company says that unnecessary, rarely used and complicated options are either removed or hidden from the users, while providing basic web, email, office, media and communications applications, accessible through a wireless keyboard.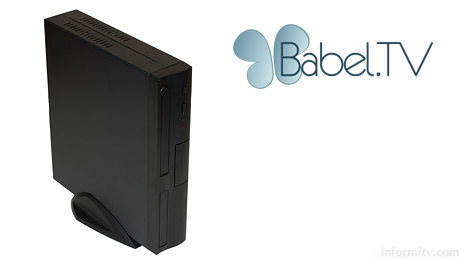 Without the ability to install additional programmes, system management is simplified. Important user files are stored on a central server, at a cost of £1 a month per gigabyte. The system also remains usable without a network connection. Power consumption of around 15 watts is also significantly lower than a typical computer.
The Babel TV uses low-power personal computer architecture, with 512MB RAM and just 160GB of built-in storage. It includes a twin terrestrial tuner digital video recorder. The operating system is based on Linux and it comes with a full Firefox web browser, email, messaging and OpenOffice software. Video playback support includes MPEG-4, RealVideo and QuickTime, but currently not Windows Media.
It is possible to network multiple Babel TV devices and personal computers so that programmes recorded on one device can be viewed on another.
"It's simple," explained Peter Dawe, the co-founder of DaweVision. "Anybody can plug a Babel TV box into an aerial and a broadband connection. That's it! That's all it takes to be all set to watch, record and pause Freeview TV. You can watch TV programmes from the internet, surf the web and shop online. You can keep in touch with family and friends by email, write letters and use other office software. You can share and store photos, play and manage iPod or other MP3 player music, and you can make free or incredibly cheap internet phone calls."
Peter Dawe was one of pioneers in the provision of commercial internet access in Britain. He founded Pipex in 1991 with just a 64kbps transatlantic line. One of its first customers was Demon Internet, one of the first consumer internet service providers in the country.
The Babel TV is apparently unrelated to Babelgum, the broadband video service that is similar to Joost, but nevertheless provides another means of watching such online video on television.