Students will soon be able to sign up to additional subscription television services on Freewire TV, the broadband video service from Inuk Networks in the United Kingdom. The pay-television bundle will include Premiership football action from Setanta Sports 1.
The student audience in halls of residence has traditionally been unreachable by satellite and cable television operators and there are often reception issues for terrestrial television.
The Freewire TV service is provided over broadband connections through the JANET joint academic network, which supports multicast delivery. As a result, Inuk Networks is able to provide television services to students, now including a line-up of premium channels.
The service will be available for the new academic year in September. The £10 per month package will feature 20 premium entertainment, music and sports channels. Access to Setanta Sports 1 will be offered as an add-on to the 30 free digital channels already available on the Freewire TV platform.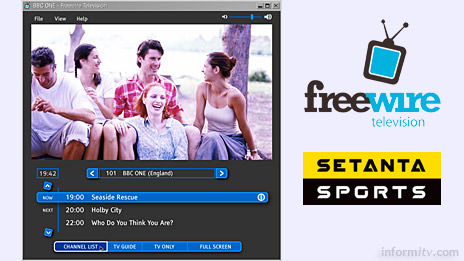 Timothy Ryan of Setanta Sports, which has won the exclusive rights to 46 Barclays Premier League games for the coming season, said that the deal with Freewire TV expanded the number of platforms on which its programming was available and so expanded the universe of available viewers.
Setanta Sports is available to all digital homes: on satellite, terrestrial, cable, and broadband. It is available on Freeview digital terrestrial television receivers with a common interface viewing card slot for just under £10 a month.
"Quality sports programming is a key ingredient to our premium content product," said Nick Ruczaj, the Marketing Director of Inuk Networks. "The Barclays Premier League has always been a big draw for TV audiences, and the Setanta offering will be no exception."
Inuk Networks will continue to add premium channels and content to its Freewire TV service as it prepares to launch its residential IPTV offering in the coming months.