The managing director of British breakfast television company GMTV has apologised on air to viewers who may have spent millions of pounds to enter phone-in competitions which they had no chance of winning. The company is offering to reimburse any viewers who paid to enter its competitions but were not included in the prize draws.
It follows an investigation by the BBC programme Panorama and widespread reports of irregularities in phone-in programmes, including those of the BBC. Panorama revealed that many of those that had called GMTV to enter their prize draw competitions had no chance of winning because the shortlist of winners was finalised before phone lines closed.
Panorama alleged that the practice could have excluded calls representing tens of millions of pounds in revenue over four years. That figure is disputed by GMTV, which has offered to reimburse any viewers that were affected. Meanwhile, it has suspended such competitions until further notice.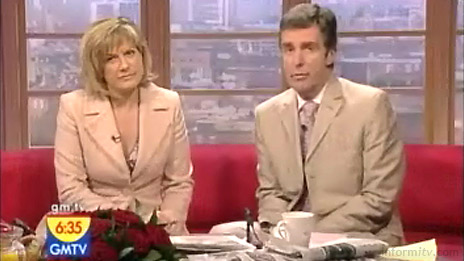 GMTV said it was shocked and saddened by the allegations. Paul Corley, the managing director of GMTV appeared on the programme to apologise personally to viewers. "We were so angry, I can't tell you," he said. "GMTV's brand is the most important thing that we have and that trust built up over 15 years, in a flash can be destroyed."
He said that they would need to go through all of the records over the past four years to determine the extent of the problem. He added: "As soon as we've got that information, we will put systems in place and we do want people to be reimbursed."
GMTV has terminated its contact with Opera Interactive Technology which operates the competition lines on behalf of the broadcaster.
Opera Interactive Technology Group said in a statement that it "unreservedly apologises to GMTV and any of the competition entrants who have lost out as a result of any irregularities".
The company changed its name from Opera Telecom earlier this year. It is one of a number of providers of call handling services for increasingly popular and lucrative voting and competition lines associated with television programmes.
Opera said that it has in no way benefited financially from any errors in procedure in the past but that it has taken positive steps to improve its administration procedures and was confident that they are now being operated in accordance with Ofcom and Icstis codes.
Opera has been fined on 20 occasions over the past two years for breaching industry codes of practice. The premium rate telephone services regulator Icstis has imposed over £200,000 in fines on the telecommunications company.
GMTV is majority owned by ITV plc, the main commercial broadcaster in the United Kingdom, which last month suspended all its premium rate interactive services, pending a a review by independent auditors. That followed the discovery that viewers had been inadvertently overcharged to vote on a popular talent show.
The broadcaster acted quickly to restore votes on its primetime programmes, but permanently pulled its ITV Play channel from its main network.
While participation television has provided significant revenues to broadcasters, there appears to have been an alarming lack of recognition that with these come certain obligations and responsibilities to their viewers.