The EchoStar Dish Network in the United States will have an interactive TV Guide Channel using an application developed by Ensequence. An Online Video Guide to programming available on the web has also been launched by Gemstar-TV Guide in an attempt to engage with the growth of broadband video.
TV Guide Channel's interactive television application will offer an intuitive, easy-to-use application that will enable viewers to view expert recommendations from TV Guide while they watch the TV Guide Channel on the Dish Network. The application will be one of two interactive applications offered by Gemstar-TV Guide and is expected to launch in the next few months.
Dish Network subscribers can launch the TV Guide Channel ITV application by pressing Select on their remote while tuned to TV Guide Channel on DISH Network channel 117, or by selecting the application from under the Entertainment category on DishHOME channel 100.
The TV Guide Channel application provides expert recommendations for what to watch in up to 10 different categories at a time. Dish Network customers can set program reminders, schedule digital video recordings, upgrade their Dish Network package and order pay-per-view programming.
"We are excited to offer our subscribers an added dimension to our ITV platform on the robust, user-friendly TV Guide Channel, powered by Ensequence," said Michael Kelly of EchoStar.
"TV Guide Channel will create a meaningful interactive TV experience for Dish Network customers because it will simplify and personalize TV viewing choices," added Ryan O'Hara of TV Guide.
The TV Guide Channel application was developed in partnership with Ensequence, which worked with TV Guide Channel to design the experience and interactive television functions using their on-Q Create software.
"TV Guide Channel's vision of an advanced interactive channel was a perfect match with our market-leading interactive video technology," said Dalen Harrison, the chief executive of Ensequence. "TV Guide Channel is taking interactive TV experiences to a new level, and this application is a leading example of the future of enhanced interactive channels in the United States."
The Online Video Guide
Currently available as a test version through the TV Guide web site, the Online Video Guide enables users to search and browse for professional and high-quality independent video content currently available on the internet.
"TV Guide has been the authority on television information and guidance for more than 50 years, and now, with the Online Video Guide, we are extending that expertise by providing guidance on the best entertainment content available on the internet," said Rich Cusick of Gemstar-TV Guide.
The Online Video Guide will index videos from more than 50 major entertainment-focused web sites, including those of broadcasters and cable networks. The guide links directly to video clips hosted on the destination sites.
"Our research tells us that a majority of users searching for videos on the Internet are looking for specific, professionally-produced content," said Paul Greenberg, general manager of TV Guide Online. "Our product will provide these users with a search and browse mechanism that is distinguished from others in the market by its ability to provide meaningful and relevant search results."
The Online Video Guide web site is based on Microsoft .NET technology and their SharePoint server. Despite some clever interface touches, initial experience with the beta site suggested that the presentation of video search results still has some way to go. For instance, beyond the editorial recommendations, a search for "American Idol" produced pages of clips represented by thumbnails of the programme logo.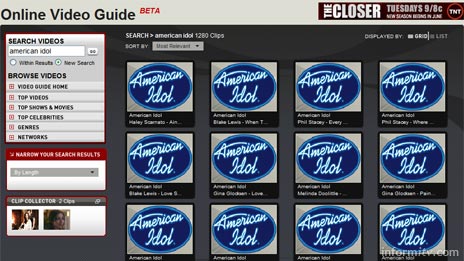 The use of a thumbnail image as a proxy for video is problematic, as others has discovered. Even Google has stumbled in video search. While offering almost instant recognition and the ability to scan a range or results rapidly, a still image, or even a moving clip, is not necessarily representative of a visual sequence or programme in the way that a few well-chosen words can represent a web site. Context is key.