The Japanese once again stole the show at the National Association of Broadcasters convention in Las Vegas with their sensational demonstration of Ultra-HDTV. The Japanese broadcaster NHK also quietly announced plans to broadcast high-definition video from the moon.
In his keynote presentation opening the broadcast engineering conference, Hirokazu Nishiyama, the managing director of the Japanese Broadcasting Corporation NHK, spoke of a transition from television to tele-sense.
The origin of the development of television, he said, was the desire to bring far-away events closer. NHK, which began development of high-definition television with an analogue system back in 1964, started researching Ultra-HDTV in 1995 in order to provide the impression of virtual presence, the sensation of virtually being there.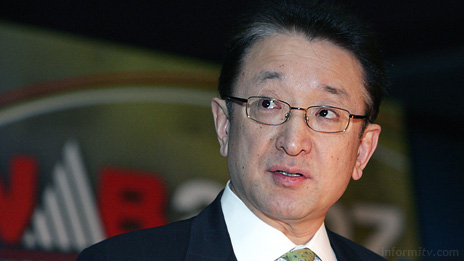 "We believe that Ultra-HDTV is the medium that will transform tele-vision to tele-sense," said the managing director of NHK. "Ultra-HDTV will open a door to a new world of broadcasting and become an essential medium of the future."
The 32 megapixel Super Hi-Vision system has a resolution of 7680×4320 — 16 times that of the best high-definition television transmissions today. It also features 22.2 channel surround sound.
Japan expects to begin satellite transmission tests around 2011, with the long-term goal of broadcasts to households by 2020. NHK is calling for international co-operation and worldwide standardization for Ultra-HDTV.
Lunar broadcasts
NHK, which has already broadcast in high-definition from the International Space Station in association with the Discovery network, now has plans to broadcast from high-definition cameras in the Japanese lunar orbiter SELENE, which is scheduled to launch this summer. It will orbit the moon for a year, making observations and no doubt providing spectacular shots of the earth rising over the moon.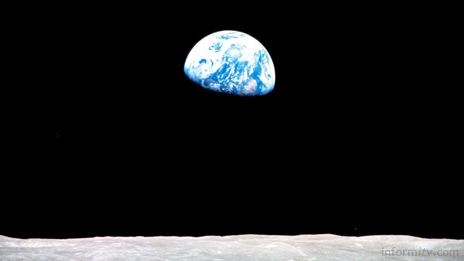 The definitive photographs of earthrise from the Apollo 8 mission in the Christmas of 1968 are among the most historic images of the planet. High-definition video from the moon could inspire a new generation of viewers.
The SELENE spacecraft will have telephoto and wide-angle high-definition colour cameras, each with three 2.2M pixel sensors. A minute of high-definition video will be compressed, stored and transmitted to the earth in a 20-minute transmission.
Asked by informitv whether the high-definition signal from the moon would be made available to other broadcasters, Mr Nishiyama, said that this might be possible, but that the rights position was complicated.
High-definition video is still much lower resolution than the medium format film images shot in space in the late sixties. In the future, Ultra-HDTV may provide comparable resolution video pictures, sixty times a second. Meanwhile, we look forward to the possibility of a global broadcast of the first high-definition video from lunar orbit.