Microsoft has previewed its new Silverlight cross-browser, cross-platform media plug-in at the NAB convention in Las Vegas. Significantly, Silverlight promises to provide enhanced presentation of Windows Media Video, including provision for digital rights management, on both Microsoft Windows and Apple Macintosh computers.
Based on the Microsoft .NET framework and previously codenamed Windows Presentation Foundation Everywhere, or WPF/E, the technology has fortunately been renamed Silverlight. It aims to address the same market as Adobe Flash in delivering video and rich media experiences across multiple browsers and platforms.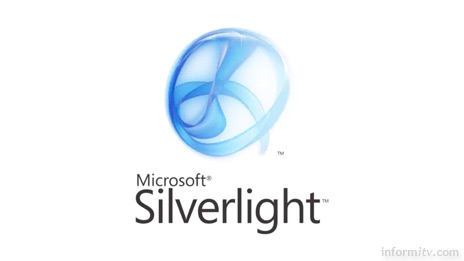 Silverlight is compatible with Windows Media Video and adds support for rich internet applications. It will also enable optional digital rights management on Windows and Mac platforms, including both Power PC and Intel hardware.
Silverlight applications will be delivered through a free two megabyte plug-in that works with leading browsers. It is completely independent of Microsoft Windows Media Player and was demonstrated by Microsoft providing a consistent experience in both Explorer and Firefox on Windows and Mac OS X environments. As well as supporting Windows Media Video, it enables vector graphics, animation and overlays on existing web applications.
Currently, Silverlight only supports Windows Media Audio and Video and MP3 audio. Microsoft says it may support additional formats based on customer feedback. An obvious addition might be MPEG-4 or H.264. While Microsoft backed VC-1 is recognised by SMPTE, the Microsoft Windows Media Video implementation remains proprietary.
Silverlight will support digital rights management built on the Microsoft PlayReady content access technology previously announced at the recent 3GSM conference in Barcelona. This aims to allow compatible devices to access content protected with digital rights management. It also promises to provide an interoperability program to work with other qualifying DRM and content protection technologies.
Asked by informitv whether Silverstream would ever support Linux, the official response is that Microsoft is gathering feedback from potential users, but the impression given was that this would be technically possible. Anyone wishing to see Linux support is advised to contact Microsoft directly, or informitv would be pleased to pass on any feedback.
Surprisingly, the Microsoft representative had no knowledge of any plans to support consumer electronics products such as set-top boxes. This would address the current limited capacity for interactive services running on the Microsoft IPTV Edition platform.
New tools to support Silverlight will include Microsoft Expression Studio. Further details about Silverlight will be presented at the MIX07 developer conference in Las Vegas at the end of the month. Now available as a developer preview, Silverlight will be launched in the first half of 2007.
Early supporters of Silverlight include Akamai, Brightcove and Limelight Networks. Brightcove currently provides a broadband video platform largely based on Flash. It includes support for Windows Media and digital rights management for pay media applications. This has so far been limited to personal computers running Microsoft Windows. The general lack of a secure option for Macs has presented a problem for publishers.
Bob Mason, the chief technology officer at Brightcove said: "We're excited to announce plans to support this technology and continue to give our customers access to the cutting-edge technologies that will drive the growth of Internet TV."
Another interesting integration is with LiveStation, a peer-to-peer streaming technology co-developed by Microsoft Research in Cambridge, England with a London company called Skinkers.
"With LiveStation, broadcasters can scale up to audiences of millions for a fraction of the cost while guaranteeing a rich user experience with minimal latency and no buffering," said Matteo Berlucchi, the chief executive of Skinkers. "By adding Silverlight to the mix we'll be able to deliver experiences that transcend conventional broadcast capabilities."
The prospect of Silverlight addresses some of the frustrations faced by developers deploying Windows Media on the web. However, it has failed to impress many fans of Flash, which has matured over a decade into a powerful platform for video rich online applications. Nevertheless, Silverlight may have been one of the most significant announcements at NAB.
www.microsoft.com
www.adobe.com
www.brightcove.com
www.livestation.com