OnlineTVRecorder is a free network-based video recorder project in Germany that claims to have reached nearly a quarter of a million users within three months. Its developers are now seeking further investor backing for the service, together with a peer-to-peer live network television system. They will be among a number of entrepreneurs pitching to investors at a Silicon Valley Open Doors conference.
OTR claims to receive 50,000 visits a day, supported by over a hundred servers delivering over 500,000 videos or 250 terabytes of data a month. Users can currently select shows from a programme guide covering around 40 channels of German television, but support for other countries is planned. The site is available in German and English versions.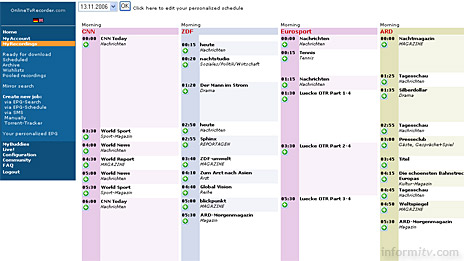 Users can record scheduled programmes to their 600GB personal storage allocation. Forthcoming programmes can be matched on wildcards for title or genre. There is even an SMS interface that can intelligently schedule shows from a text message.
Unlike a domestic digital video recorder, there is virtually no limit to the number of channels that can be recorded simultaneously. Recordings are available in Windows Media Format, DivX, or for the iPod or PSP.
Naturally there are concerns over copyright. Service providers have run into rights problems in the past with network video recorders, but the case for personal remote recording may be clearer.
Cablevision, a cable television operator in New York, has tested the concept of a remote storage digital video recorder in a move that was positively welcomed by some other cable operators.
The developers of the online recorder are well aware of the sensitivities of rights holders. Cybersky, a related peer-to-peer live streaming project ran into legal problems over copyright concerns. Pay-TV operator Premiere took the matter to court and was partially successful in restraining the inventor of the service from promoting its illegal use.
Guido Ciburski, the inventor of the service, said that he did not develop the system "just to watch permanent movie repeats subscription free". He said the aim "is to devise a complete new scheme of television and mass broadcasting for free".
He contacted informitv regarding a number of related software projects that are part of an initiative aimed at reinventing television. They include: OnlineTVRecorder, the network based personal video recorder; CyberSkyTV, the peer-to-peer live streaming system; YourOpenMedia, a video sharing service similar to YouTube; and TornadoTV, a player that assembles clips and adverts in a playlist that plays back without interruptions.
CyberTiVi, or CTV, will be a privately-held company based in Switzerland. The founding team, original investors and software developers are based in Germany and the United States. They say they have developed a suite of products that will enable a new generation of internet protocol television services.
These will be free to end users, with the main source of revenue coming from advertising. The forecast growth is ambitious. The company expects between 5 and 30 million users after its first year of operation, breaking even after a couple of years.
The projects are being presented to potential investors who may need an appetite for risk, but as products such as Slingbox have shown, there may well be a market for such disruptive technologies if they can be packaged legitimately in a way that is attractive to consumers.
William Cooper of informitv will be chairing a session on the respective merits of network and set-top box video recording at the TV Outloook 2007 conference in Munich on 1 December 2006.