A new self-service online platform will allow anyone to create their own commercial internet video channel at no cost and generate revenue through advertising and video download sales. After eighteen months of development and testing, the Brightcove Network has been launched to the public.
Brightcove was first featured by informitv in March 2005. Since then the start-up company, based in Cambridge, Massachusetts, has been preparing a self-service platform that promises to revolutionise and democratise online video.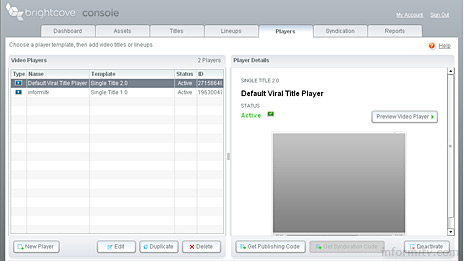 Investors in the company include AOL Time Warner and InterActive Corp, and its customers already include MTV and Discovery.
Jeremy Allaire, the founder of Brightcove, was previously chief technology officer of Macromedia, after it acquired his eponymous software company, Allaire Corporation, best known for the Cold Fusion web development platform.
The idea was born in early 2004, originally known as Video Marketplace or VidMark. The original plan was the now familiar model of consumer as publisher. A year later, the focus was placed on creating a platform and a model that worked for rights-holders, media owners and professional creators.
"In the last six months we've seen explosive growth in the online video market, especially in consumer sharing, but this is only the beginning of the internet TV era," said Jeremy Allaire, the chairman and chief executive of Brightcove.
"Now content producers, from serious amateurs to major studios, are looking for an approach to internet video that gives them commercial opportunities with their content as well as control over their distribution, and that's exactly what we're delivering with the launch of the Brightcove Network."
The Brightcove Network allows anyone to build a commercial internet video channel, launch it on their web site and syndicate it to other sites. The standard service is free to use, with Brightcove retaining the right to sell advertising and receive half of the revenue.
It is also possible to make high-quality videos available for downloads for rental or purchase and receive 70% of the sale price for each transaction.
In addition to the advertiser-supported option, a separate publishing platform is available with usage-based pricing options for small or large operations, starting at just under $50 a month for up to 50GB of bandwidth, sufficient for up to 10,000 video streams.
Brightcove will use the content delivery services of Limelight Networks to distribute video material.
For those just wishing to share a few videos among friends, a personal channel option is in development.
Brightcove hopes to establish its own site as a consumer destination for discovering and interacting with internet video channels. Through a deal with AOL, video providers will also be able to distribute their material through the video portal of the online service provider.
"As the market for online video grows, both emerging and established media companies are looking for more options to reach consumers with their paid downloads," said the Brightcove chairman. "Our relationship with AOL gives internet TV programmers a powerful new channel to reach consumers, build audience and generating revenue through sale of high-quality digital video."
While YouTube may have attracted a lot of media attention, its business model remains unclear. Google has so far failed to excite the same interest in its own video offering.
Brightcove seems to have it all figured out, approaching the problem from a perspective that attempts to address the main business issues, creating a viable market for video publishing, distribution, advertising, syndication and retail. It is undoubtedly one of the best thought-through and technically implemented initiatives seen so far in the evolving field of internet video distribution.