Interactive TV company OpenTV has demonstrated a vision of next-generation television with a prototype zoomable user interface. It claims it would fundamentally change the way viewers navigate and choose video programming.
OpenTV says that channel surfing is no longer an adequate way to deal with the expanding range of live, recorded and on-demand programming now available.
The company, which is best known for its interactive television set-top box middleware, is aiming to take a leadership position in defining future navigation models and driving hardware requirements.
"When we say we are 'opening up' television, we are extending our tradition of pioneering middleware and related solutions to new content sources, new navigation models, new forms of television advertising and new experiences in participation with television," explained Jim Chiddix, the OpenTV chairman and chief executive.
Matthew Huntington of OpenTV showed informitv the concept interface, which uses a high-definition widescreen display.
Video icons in the margins of the screen replace textual information, with navigation using familiar directional buttons on the remote control providing one-touch access to the menus.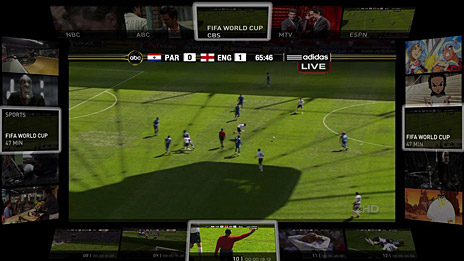 The top margin provides access to broadcast channels, while the bottom margin offers direct access to scenes with the current programme. The left margin shows previously recorded and bookmarked shows and on-demand programming, while the right margin shows recommendations based on what the viewer is currently watching.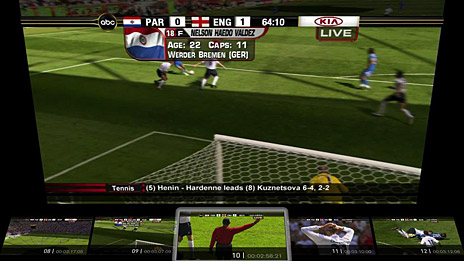 A 'scenographic' menu provides DVD-like selection by scene, with relative time references.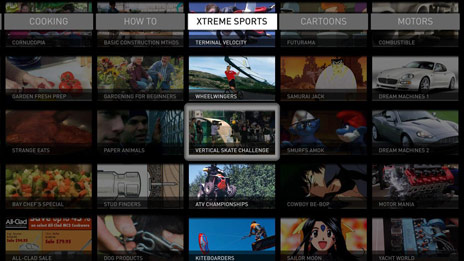 The on-demand grid sorts recorded and bookmarked content into viewer-defined categories.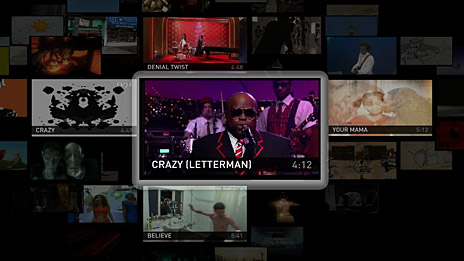 The recommendation margin leads to a drill-down display that shows a mosaic of selections personalised to the viewer. The idea is that the system will learn about the tastes of the user and offer material that might otherwise have gone unnoticed.
The prototype was implemented in Flash and displayed fluidly on a large high-definition screen. The perspective effects demonstrated are understood to be within the capabilities of the next generation of high-definition chipsets.
The latest OpenTV Core2 middleware supports Flash, based on the MachBlue implementation from Bluestreak Network, which allows the production of enhanced programming using standard Adobe Flash authoring tools.