A new broadband video service called TV Anywhere aims to provide live American television programming, local news and on-demand movies to subscribers outside the United States with an offering that "feels like home".
"Our goal is to make the viewing experience very similar to what subscribers currently enjoy from existing digital cable or satellite providers," said Tom Ma of TV Anywhere, a startup company based in Colorado. "We will offer a unique opportunity for Americans living abroad to watch the same programming that they have become accustomed to in the USA, anywhere in the world."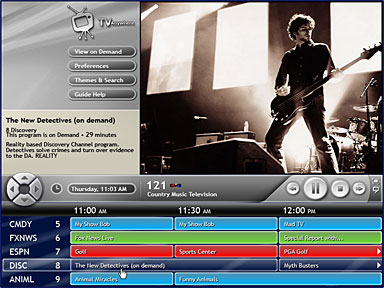 With a launch planned for "early 2007," the company says subscribers can expect to see services "that very closely mirror those available today from existing service providers in the United States and Canada".
Hardware products such as Slingbox, Sony LocationFree TV, or a new device from Hauppauge which is also referred to as 'TV Anywhere,' work by re-directing a video signal from the home over the internet.
TV Anywhere aims to secure carriage agreements to enable distribution of programming without requiring such a hardware device, and is aimed at Americans living abroad.
The company says it has distribution agreements with several broadcasters. It quotes Denis Leverson, chief operating officer of the Soundtrack Channel saying: "TV Anywhere represents a big change in the way the world will watch television and the way in which content owners distribute their products".
Obtaining international distribution rights for other types of programming is likely to be challenging, to say the least, although the company hopes to sign deals with network affiliates for local news shows.
In a statement the company said it has applied for several US and international patents related to the distribution model and delivery concept. Their very basic web site currently shows little more than a couple of screenshots. It claims the service will offer "full quality motion beyond DVD" on a PC or TV, with live linear channels or video-on-demand.
Reports suggest that the service will use the Microsoft Windows Media format, delivered to personal computers, with an option to use a hardware set-top box.