Dutch telecommunications company KPN is launching an innovative interactive television service called Mine which it says is built around what viewers want. The subscription service will be free during an initial launch period.
The Mine service, delivered over internet protocols and available through a broadband telephone line, will offer 48 television and 60 radio channels at launch, with more to be added. A missed programme feature will enable subscribers to catch up on shows that they may have missed on three Dutch public channels up to 10 days after they are transmitted.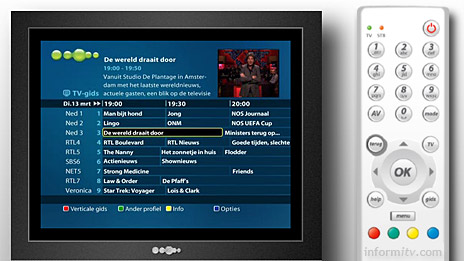 From the summer, additional subscription packages will be available, including coverage from the three biggest football teams in the country: Ajax, Feyenoord and PSV. A joint venture with Endemol will also explore the development of new programming. A video-on-demand film service will offer up to 500 titles.
A personal video recorder, with 160GB of storage for up to a hundred hours of television will be included as standard. In addition, uses will be able to receive the latest weather and regional traffic reports through interactive services. In the future, subscribers will even be able to make their own television programmes and watch them on their own channel.
"We are proud of this new TV service," said Ludolf Rasterhoff, the television and media director of KPN. "Mine is a whole new way of experiencing TV. It puts an end to the traditional, passive viewing experience which was essentially one-way traffic. Now, the individual viewer decides which program he wants to see and when. With Mine, we aim to make watching TV more enjoyable, focusing on what viewers want."
In the initial launch phase, existing subscribers to KPN broadband services will be able to sign up. The subscription fee will be waived in return for their active participation and input into the development of the platform.
From October a subscription to Mine will cost just under 20 euros a month. By this time KPN expects to have around 10,000 users.
The Mine hardware costs just under 180 euros including connection, with an additional 50 euros installation fee from September. The KPN ADSL2+ broadband network which carries the television service currently covers around six out of ten Dutch households.