The National Association of Broadcasters convention in Las Vegas heard that free-to-air broadcasters need to go on the offensive in the face of increased competition from satellite, cable and telco television and new forms of video distribution.
In a marked change of tone from previous years, the new NAB president and chief executive David Rehr urged broadcasters to go on the offensive.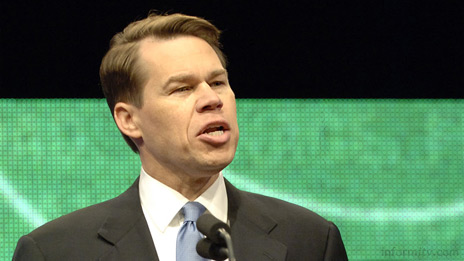 "NAB must move from an organization that is perceived as being on defence to one that is on offence," he said. "We cannot afford to be an organization that is perceived as protecting the status quo but rather one that embraces change."
Broadcasting, he said, has been defensive in its thinking for too long. In this new era of consumer convenience and consumer choice he urged the NAB to move from defensive lobbying to advocacy for their industry.
The strapline for the show was Immediate Future and there was a real focus on the profound changes that broadcasters are now facing.
An opening ceremony tribute to news anchors Dan Rather, Tom Brokaw and the late Peter Jennings felt like a tribute to the age of network television, as new networks increasingly usurp their role.
There was no single standout exhibit on the show floor. It is clear that no particular piece of production kit will make or break a broadcaster. High-definition television and file-based workflows are now commonplace.
What is changing is the entire media environment, notably in terms of distribution and consumption.
Internet protocol technology, in the shape of IPTV and broadband delivery were particularly prominent, as were mobile and portable devices.
MPEG-4, in the form of the H.264 AVC standard, appears to have prevailed over the Microsoft backed VC-1 codec, although the latter remains dominant in the Windows Media format by virtue of its digital rights management. The MPEG Industry Forum and Internet Streaming Media Alliance were in evidence, promoting the importance of interoperability.
Qualcomm, which is due to launch a mobile television service across the United States, was showing its MediaFLO system, but Nokia was persuasive about the benefits of the European DVB-H standard. Meanwhile yet another standard, A-VSB, based on the American ATSC digital television standard, was also being advanced.
Outside the set-piece super sessions, which continue to draw a capacity audience, the associated conference events appear to have lost their way. The iHollywoodForum sessions on mobile and IPTV were dominated by sponsor interests and failed to shed much light on their subjects, with little consensus about what these terms even mean in practice.
As cable, satellite and now telco networks compete with vertical video platforms, for others horizontal markets and the open internet are seen as the future of video distribution.
Kevin Corbett of Intel showed an impressive prototype of a visual browse interface for the VIIV home media centre, developed by Vizible Corporation, based in Canada. Jeremy Allaire of Brightcove premiered their online video publishing platform. YooTube was also clearly attracting attention, with many mentions in the conference sessions.
For traditional broadcasters, aggregators such as SES Americom will bundle their channels and deliver them by satellite as internet protocol streams, ready for distribution by even the smaller rural telcos.
It may not be quite here today, but broadband, with a global market of up to half a billion homes, could provide a series challenge to the world of broadcast in the not too distant future.