Microsoft chief executive Steve Ballmer showed off a new live mobile television service introduced by Virgin Mobile and BT Movio at the 3GSM World Congress in Barcelona.
Microsoft has come a long way in its ambitions in the mobile handset market in just three years, and is now stressing the need for partnerships, and emphasising that partners can license elements of their technology, such as the Windows Media platform.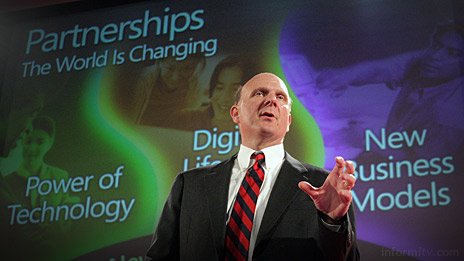 "I really think that we're at a point in time today that the devices that one can put in one's pocket are really like mini PCs," said the Microsoft chief executive. "The 3G networks that people have been working to deploy are like broadband networks. And our joint customers will really expect the same flexibility and choice of activities that they get on the PC today."
He demonstrated the ability to dial in to a personal computer at home and stream a programme to a mobile device. "So if I'm sitting here in Barcelona, and I recorded my favourite news programme, my favourite sports programme on my PC at home, and then I want to view it or check something quickly on my mobile device, that works."
Sir Richard Branson joined Ballmer via a video message broadcast on stage to the world's first DAB-IP enabled Smartphone from HTC. He said Virgin Mobile will be the first mobile operator to sign up for the new BT Movio broadcast digital TV and radio service, which is built with Windows Media technology and works with Windows Mobile-based Smartphones.
"Mobile TV marks the beginning of a new epoch for our industry and the Virgin Mobile tellyphone is something I know consumers are really excited about," said the founder of the Virgin Group of companies. "Everyone watches TV these days, and being able to watch your favourite programmes on your mobile while on the go will soon be as natural as watching TV in your living room today."
Virgin Mobile will offer the broadcast service on a limited exclusive basis to its customers later this year. Virgin Mobile customers that subscribe to the service will have access to a wide range of digital TV content and more than 350 digital radio stations broadcast 24 hours a day.
Steve Ballmer conceded that there were varying degrees of opinion on the importance of live television or video on the mobile phone, but added that "with appropriate cleverness from the operator community and from the content vendors, there are going to be very compelling scenarios that make live TV on the phone important in many way, shapes and forms".
The Microsoft executive said he was spending more of his time meeting with mobile and fixed line telecom companies than any other segment of their partner and customer constituency. When asked whether Microsoft should be seen as friends or foes, he said there was only one message: "We come as friends. We see opportunity to change the world together in a positive way".