Subscribers to the EchoStar Dish Network now have access to CNN Enhanced TV, an interactive news service providing the latest headlines and images from CNN.com in conjunction with CNN television programming.
The interactive television application was built by OpenTV. It enables Dish Network viewers to access graphically rich headlines and stories, vote in polls and review on-air schedules while viewing the CNN channel.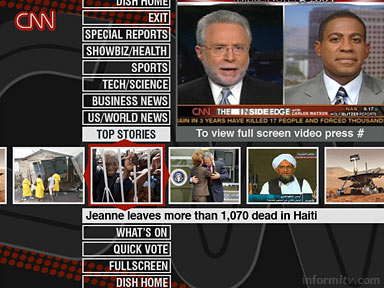 "CNN Enhanced TV furthers CNN's commitment to providing viewers with greater access to our extensive television news coverage, along with the top-notch reports and services available through CNN.com," said Kevin Cohen of Turner Broadcasting System, Inc. "This application offers our viewers an interactive news experience, enabling them to not only benefit from our extensive televised coverage but also take advantage of the extensive resources of CNN.com, all without leaving their television sets."
The enhanced television application is currently available through the Dish home page on channel 100, but will in the future be accessible by tuning to CNN on channel 200.
"The CNN Enhanced TV application furthers Dish Network's standing as a leader in ITV," said Eric Sahl, senior vice president of programming at the satellite operator, which now provides 25 virtual and enhanced ITV channels. EchoStar serves more than 12 million satellite television customers through its Dish Network.
The arrival of an interactive application from a leading media property such as CNN demonstrates a growing commitment to interactive television in the United States. Similar enhanced television applications have long been available in Europe and elsewhere.
EchoStar has been steadily building a portfolio of interactive applications on its platform. They currently constitute a rather disparate array of services, rather than a coherent interactive proposition. However, they serve to demonstrate the practical possibilities to a television market that remains fragmented by a variety of technical platforms that makes it difficult to reach a national audience.
EchoStar chief operating officer Michael Neuman has stepped down only eight months after taking up the post, with no reason given for the resignation.
EchoStar is also understood to be in talks with DIRECTV aimed at creating a national WiMax wireless broadband network. The satellite television operators have been eroding the cable television market, but need a high-speed two-way network to provide truly interactive services and compete with a triple-play proposition.
Although rivals in satellite television, both EchoStar and DIRECTV see cable as the real opposition, and could combine their forces to compete more aggressively, providing that they can address any antitrust concerns.
Internet service provider Earthlink has simultaneously announced partnerships with both EchoStar and DIRECTV to provide bundled broadband and broadcast delivery, offering an integrated package of video, voice and data services. The same company has been linked to plans to build a wireless municipal network in San Francisco in conjunction with Google.