Satellite television broadcaster BSkyB has announced a number of new innovations as it aims to maintain its competitive position in the UK.
Further details have emerged of the broadband service due to be launched in the autumn. Plans for the service were first revealed by informitv in June. It will be delivered in the form of an application that is downloaded to a broadband connected personal computer.
The launch will pre-empt the introduction of a similar peer-to-peer service planned by the BBC, which is due to enter a limited public trial in the autumn. It also comes as cable operators are rolling out video-on-demand services in the UK.
The Sky Movies broadband service will offer hundreds of films licensed to Sky, which will be available to download and even transfer to a portable device.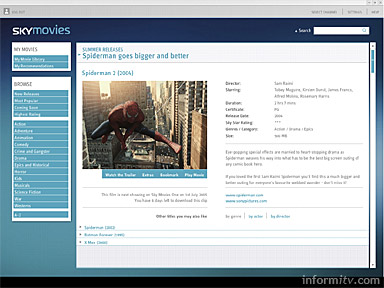 The Sky Sports service will offer over a thousand video clips, available to over five million subscribers to Sky Sports packages.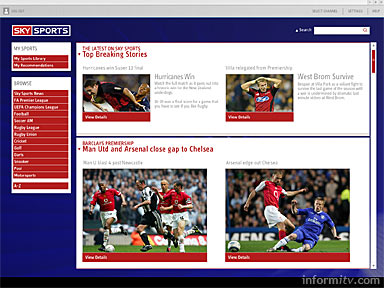 "It's just fantastic," said BSkyB chief executive, saying that the service would offer "high levels of personalisation and recommendation" when it launches in the autumn.
High-definition
James Murdoch also confirmed news, exclusively revealed by informitv, that the new high definition set-top box will feature an Ethernet network connection, in addition to two USB ports to provide connectivity for future services and peripherals. He suggested that such features would eventually be available in other boxes.
The high-definition set-top box will have a built-in digital video recorder, with a "vastly expanded hard disk drive", although details of the capacity have not yet been announced.
Sky seems optimistic about prospects for high-definition services, saying that over ten million high definition displays are expected to be sold in the UK by the end of the decade, as consumers replace their traditional televisions with flat panel displays. "There's a lot of wind in the sails on this one," said James Murdoch.
Mobile
Sky is also planning to launch a mobile service that will allow users to remotely program their Sky+ digital video recorder.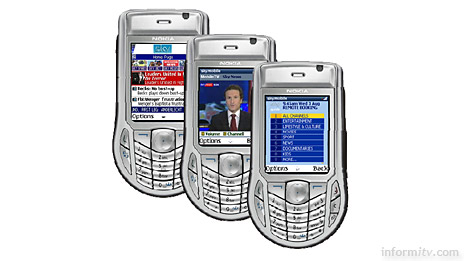 EPG
The Electronic Programme Guide is also being re-vamped, while retaining its familiar look and feel, to provide better navigation and customisable features. These will include the ability to store favourite channels and parental control by channel, including the protection of stored programming.