BSkyB, the UK satellite broadcaster, has revealed a new wireless audio receiver, inexplicably called the Sky Gnome, to allow users to listen to digital radio or television channels up to 30 metres from the set-top box.
"This is fantastic," enthused BSkyB chief executive James Murdoch, introducing the device to reporters and analysts at a presentation of annual results. "We think it's just dynamite!"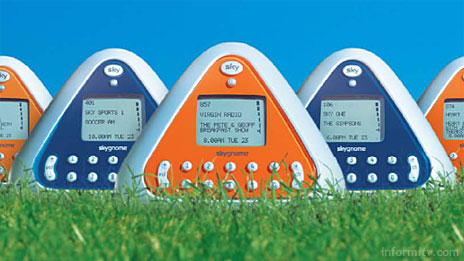 The Sky Gnome features stereo sound, a backlit LCD display with full channel and programme information, volume and channel control and the option to pre-set ten favourite channels.
There will be a base transmitter that is compatible with all Sky boxes, which will allow users to listen to more than 80 digital radio channels, including all major UK national radio stations, and any television channels in their Sky package.
Sky+ subscribers will also be able to use the Gnome to listen to pre-recorded programmes on their set-top box. The device comes complete with rechargeable batteries offering up to eight hours of listening time.
Due to launch in October, and on sale in the pre-Christmas period, the Gnome will be available in a choice of two colours. Pricing has yet to be announced.