EVENT ORGANISERS work with informitv to create and promote industry conferences of real relevance and significance.
From researching trends and topics to identifying suitable keynote speakers or expert panelists, informitv helps to create programmes for specialist conferences and international conventions and is a regular media partner for many major media and communications industry events.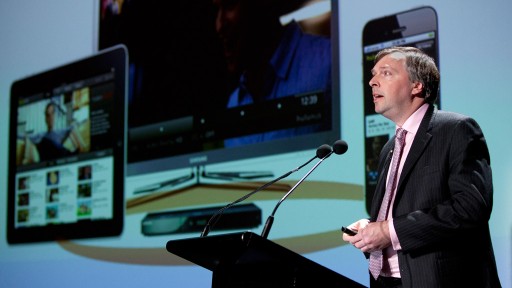 William Cooper, the founder of informitv, has chaired, moderated and presented at numerous conferences around the world and provided peer-reviewed papers presented and published at international conventions, including IBC and NAB.
"William has a wealth of knowledge on the status of the television industry and its possible future. He gave an excellent presentation at our recent NAB Futures event, providing our attendees with a concise update on trending issues related to advanced television in Europe. I highly recommend William for his expert analyses and foresight."
— John Marino, Vice President, Technology, at National Association of Broadcasters
"We invited William as guest speaker to our customer forum where he provided very detailed information and got many of our customers excited about the future of the industry and winning strategies. I can recommend Dr Cooper if you're looking for an expert in the TV industry with strong views about its future."
— Arnaud Bonsaid, Vice President, Marketing, SoftAtHome
"I would like to thank you for your participation in the 2013 John Logie Baird Lecture. The atmosphere during the evening was extremely positive. The delegates particularly enjoyed the event and found the debate to be thought provoking and of great interest. We are very grateful for the time and effort you put in to contribute towards the success of the event."
— Philip Clayson, The Institution of Engineering and Technology
"William is one of the foremost analysts in the set-top box and interactive television sector. He was an excellent host at the recent IET John Logie Baird Lecture, providing expert chairing to a hugely experienced panel of Industry leaders. William's experience in broadcasting and encyclopaedic knowledge of the broadcast technology sector guarantee you will get an insightful and well-respected view of your project or product. I would not hesitate in recommending Williams for any industry events or speeches."
— Andy Wilson, Head, College of Technology, BBC Academy
"William was chairman of CSI's inaugural Multimedia-Home-Gateways Conference held last week at the British Film Institute. As organisers we feel William was highly professional and enthusiastic in his assistance in helping us create a very thought-provoking event and bringing his expert view to the proceedings. We found him to be organised and he not only impressed us as organisers, but received very good feedback from the audience. In short, we would have no hesitation on recommending William for chairing any other such industry related event or conference."
— Tiro Bestonso, Commercial Manager, CSI Magazine
"William has established himself over the years, in my opinion, as the consultant's consultant, specializing in broadband and broadcast convergence. I have asked him to chair a number of our Technosummits events because of his vast experience and in-depth knowledge about the technology trends and business cases in the broadband and broadcast sectors. I would highly recommend him not only as conference chair but also as a reliable consultant who can provide technical and business advice in all aspects of his area of expertise."
— Joseph de Villiers, Chief Executive, Technosummits
"William has the rare quality of being able to make the connection between highly technical subjects and their commercial implications. His contributions in both shaping content and conference speaking have been invaluable in delivering a number of successful Broadcast events."
— Daniel Brain, Conference Producer, Emap plc
Contact us today for further information.